Publication:
Análisis de estabilidad de los potenciales deslizamientos rocosos en el acantilado de El Rincón (Autovía GC-2, Gran Canaria)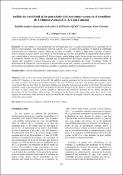 Advisors (or tutors)
Editors
Publisher
Sociedad Geológica de España.
Abstract
En este trabajo se han identificado los deslizamientos que se pueden desarrollar en el acantilado de El Rincón (Gran Canaria) y sus repercusiones sobre la Autovía GC-2, en la base del acantilado. El análisis de estabilidad realizado para las condiciones actuales indica que la ladera es estable. El análisis a largo plazo considera el macizo rocoso saturado en agua y define la existencia de dos bloques que son más susceptibles de experimentar deslizamiento: uno a media ladera y otro en coronación. El bloque situado a media ladera estaría favorecido por una rotura a través de la Formación Detrítica de Las Palmas, mientras que el deslizamiento del bloque situado en coronación tendría un carácter más superficial y estaría favorecido por la rotura de los piroclastos del Grupo Post-Roque Nublo. El deslizamiento del bloque de coronación parece más probable ya que sólo requiere la saturación de los piroclastos y está favorecido por la reducción de la resistencia asociada a la progresiva apertura de la grieta subvertical.
In this work we have found landslides that may be developed in El Rincon cliff (Gran Canaria) and its impact on the GC-2 highway, at the base of the cliff. The stability analysis performed for the current conditions indicates that the slope is stable. The long-term analysis considers the water-saturated rock mass and defines the presence of two rocky blocks that are most likely to experience sliding, one along the mid-slope and another in the head. The mid-slope landslide would be favoured by failure through the Formación Detrítica de Las Palmas, while the landslide located on the head of slope would have a more superficial character and would be favoured by the failure through the pyroclastics of the Post-Roque Nublo Group. The landslide of the block of the head seems more likely since it only requires the saturation of the pyroclasts and is favoured by the reduction of strength related to the progressive opening of the subvertical cracks.
Collections