Publication:
Las variables moduladoras del acoso psicológico en el trabajo: un enfoque victimológico y forense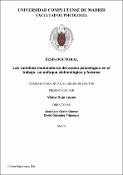 Files
Authors
Advisors (or tutors)
Editors
Publisher
Universidad Complutense de Madrid
Abstract
El acoso psicológico en el trabajo o mobbing, es un fenómeno creciente que ha despertado el interés de distintas disciplinas, debido al impacto negativo que ocasiona, tanto en las víctimas, como en las organizaciones. Aunque tradicionalmente su estudio ha sido patrimonio de la Psicología del Trabajo y de las Organizaciones, en los últimos años, debido al incremento de los casos de acoso judicializados, el papel de la Psicología Forense ha ganado relevancia. Cuando hablamos de acoso laboral no nos referimos a un conflicto puntual, sino a un conjunto de conductas de naturaleza hostil que se dan de manera reiterada y duradera en el tiempo. Este proceso se da en el contexto del trabajo e implica un desequilibrio de poder formal o informal entre la víctima y el hostigador. El fin último del acoso es la destrucción laboral del trabajador, pero en ocasiones va más allá, afectando a todas las áreas de su vida. La labor del psicólogo forense es la de auxiliar a la Administración de Justicia, es decir, mediante su pericia, conectará una demanda jurídica con los conocimientos propios de la psicología, con el objetivo de dar respuesta a la solicitud de los tribunales mediante el informe pericial. El informe pericial, como medio probatorio, ha de basarse en el método científico, lo que implica una metodología con altos estándares de rigurosidad y solidez. Para realizar esta labor, nos valdremos del método hipotético deductivo y el sistema multimétodo y multifuente, por lo que nuestras conclusiones deberán basarse en el contraste de hipótesis y la integración de la información proveniente de las distintas fuentes analizadas...
Psychological harassment at work, or mobbing, is a growing phenomenon that has aroused the interest of different disciplines, due to the negative impact it causes, both on victims and organizations. Although traditionally its study has been the responsibility of Workplace and Organizational Psychology, in recent years, due to the increase in the number of legal cases involving harassment, the contribution to this field by Forensic Psychology is becoming increasingly important. By harassment at work we do not refer to a specific conflict, but rather to a series of hostile behaviors that persist over time. This process happens in the workplace setting and involves a formal or informal imbalance of power between victim and perpetrator. The ultimate purpose of harassment is the worker's employment loss, although occasionally it goes further, affecting the whole life of the worker. A forensic psychologist's job is to assist the Justice Administration, namely, through their expertise, combining a legal claim up with their knowledge in psychology, in order to address the request of the courts with an expert's report. As evidence, this report should be based on the scientific method, which implies a methodology with high standards of rigor and consistency. To fulfil this task, we will be using the hypothetical deductive method and the multi-method system, so conclusions should be based on testing hypotheses and integrating the information provided by the several analyzed sources...
Description
Tesis inédita de la Universidad Complutense de Madrid, Facultad de Psicología, leída el 28/01/2021
Collections