Publication:
La construcción del héroe nacional: los guerrilleros de 1808 en la historiografía republicana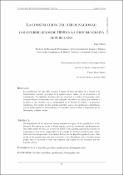 Authors
Advisors (or tutors)
Editors
Publisher
Instituto de Humanidades: La Albolafia: Asociación de Humanidades y Cultura
Abstract
Los republicanos del siglo XIX recrearon la figura del héroe guerrillero de la Guerra de la Independencia tomando el modelo de la tragedia griega, pasado por el cristianismo y el romanticismo. No falsificaron los datos, sino que mostraron a los líderes de la guerrilla, sobre todo Juan Martín El Empecinado, como hijos del pueblo vinculados con la lucha por la libertad y la patria, lo que encajaba con su interpretación de la Historia de España y su proyecto republicano. Este modelo de héroe popular guerrillero ayudó a los republicanos a identificarse con un pueblo amante de la libertad que, a su entender, estaba olvidado y despreciado por la Monarquía y la Iglesia católica.
The Republicans of the nineteenth century recreated the figure of the guerrilla hero of the Peninsula War taking the model of Greek tragedy, passed by Christianity and Romanticism. They didn't falsify the data, but showed the leaders of the guerrilla, especially Juan Martin El Empecinado, as sons of the people linked to the struggle for freedom and the country, which fitted with their interpretation of the Spain's History and the Republican political project. This model of the popular hero was used to identify to the Republicans with a freedom-loving people who, in his point of view, was forgotten and despised by the Monarchy and the Catholic Church.
Collections