Publication:
Tendencias recientes de la política de vivienda en España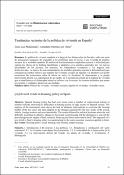 Advisors (or tutors)
Editors
Publisher
Universidad Complutense de Madrid
Abstract
La política de vivienda española a lo largo de los últimos años ha llevado a cabo una serie de actuaciones incapaces de responder a los problemas para el acceso a una vivienda de amplios sectores de la sociedad española. El análisis de los instrumentos empleados muestra la dificultad para superar los efectos de la burbuja inmobiliaria y adaptarse a los cambios generados por las nuevas necesidades de los jóvenes, los mayores, los trabajadores extranjeros y los hogares más desfavorecidos. La inercia de una continuidad en las medidas aplicadas muestra la dificultad real para conseguir un cambio efectivo que impulse las viviendas sociales en alquiler y la alternativa de poder reconvertir las actuaciones sobre la oferta de suelo, la fiscalidad, la financiación y la propia intervención directa. La culminación de un cambio en la orientación estatal de la política de vivienda que se manifiesta en el último plan trienal se enfrenta con la escasez de recursos atribuidos que ponen en cuestión el verdadero alcance de sus medidas.
Spanish housing policy has had over recent years a number of controversial actions in relation with the answering to difficulties in housing access of large sectors of Spanish society. The analysis of the instruments used shows the lack of adequate interventions to overcome the housing bubble of the last years and been adapted to the changes generated by the new needs of the young, elderly, foreign workers and poor households. The trends followed in political decisions show the real difficulty in getting an effective change to boost rent social housing and the alternative to convert the proceedings on the supply of land, taxation, financing and direct intervention itself. The approach of a new trend in State's housing policy is counteracting by the scare economic resources applied to them.
Citation
• Abrahamson, P. (1992). Welfare Pluralism: Towards a New Consensus for a European Social Policy? in L Hantrais, M O'Brien and S. Mangen (eds) The Mixed Economy of Welfare, Cross-National Research Papers. Loughborough: Cross-National Research Group, Loughborough University, pp 5-22. • Alguacil, A. y otros (2013). La vivienda en España en el siglo XXI. Fundación. Madrid: Foessa. • Allen, J.; Barlow, J.; Leal, J.; Maloutas, T. and Padovani, L. (eds.) (2004). Housing and Welfare in Southern Europe. Oxford: Blackwell. • Anton, F.; Barroso,A. ;Lidón, E.; Rodriguez, E. y Soto, O. (2007). Vivienda y Opinión Pública en España. Madrid: Centro de Investigaciones Sociológicas. • Arbaci, S. (2007). Ethnic Segregation, Housing Systems and Welfare Regimes in Europe , Gran Bretaña: European Journal of Housing Policy, Vol. Issue 4, 2007, pp. 401-433. • Castles, F.G. y Ferrera, M. (1996). Home Ownership and the Welfare State: Is Southern Europe Different? Gran Bretaña: South European Society and Politics, 1 (2), 163-185. • Echaves, A. (2015). Pautas emancipatorias de los jóvenes españoles y acceso a la vivienda en el actual contexto de crisis. España: Documentación Social. Nº 176. Pgs:15-36. • Esping-Andersen, G. (1990). The Three Worlds of Welfare Capitalism. (New Jersey: Cambridge, Polity Press). • Ferrera, M. (1995). Los estados de bienestar del Sur en la Europa Social. in Sarasa, S. and Moreno, L. (eds) El Estado de Bienestar en la Europa del Sur. Madrid: Consejo Superior de Investigaciones Científicas. • García Montalvo, J. y otros (2003). Financiación de la vivienda. Perspectivas del sistema financiero. Madrid, España, Fundación de las Cajas de Ahorros Confederadas para la Investigación Económica y Social, 2003, 163 p. • Hoekstra, J. (2010). Divergence in European welfare and housing systems. Ámsterdam: IOS Press. • Leal, J. y Aguacil, A. (2012). Vivienda e inmigración: las condiciones y el comportamiento residencial de los inmigrantes en España. En Aja, E.; Arango, J. y Oliver, J. (eds.) La hora de la integración. Barcelona Anuario de la Inmigración en España • Leal, J. (2001). Políticas de vivienda y sistemas de bienestar: el caso de España en el contexto de los países del sur de Europa. Lisboa: Cidades. Número 3, pgs. 9-20. • López García, M.A. (2001). Política impositiva, precios y stock de vivienda. Madrid: Instituto de Estudios Fiscales. • Módenes, J.A. y López Colas, J. (2014). Cambio demográfico reciente y vivienda en España: ¿hacia un nuevo sistema residencial? Madrid REIS Nº148 Pgs. 103-134. • Sánchez Martínez, M. T. (2002). La política de vivienda en España. Análisis de sus efectos redistributivos Universidad de Granada, Biblioteca de Económicas y Empresariales, 441 pgs. • Trilla C. (2001). La política de vivienda en una perspectiva europea comparada, Barcelona, España, Fundación La Caixa, Colección de Estudios Sociales de La Caixa (noveno volumen), 208 p. Rodríguez, J. (2009). Políticas de vivienda en un contexto de exceso de oferta. Madrid: Fundación Alternativas, documento de trabajo 155/2009, pp. 1-84 • Trabada, E. (2015). De las ejecuciones hipotecarias al alquiler social. Madrid:Documentación Social. Nº 176. Pgs: 95-152
Collections