Publication:
Análisis de la evolución de los Repositorios Institucionales de material educativo digital de las universidades españolas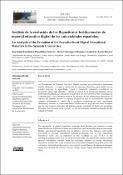 Advisors (or tutors)
Editors
Publisher
Universidad de Extremadura: Departamento de Ciencias de la Educación
Abstract
Los Repositorios de Material Educativo Digital permiten que profesores y estudiantes puedan almacenar y recuperar fácilmente sus recursos educativos para usarlos en los actuales entornos de aprendizaje virtual y presencial. Asimismo, constituyen un mecanismo eficaz para difundir y valorar la calidad de la producción didáctica de los profesores. Finalmente, se consideran un indicador del uso excelente de las Tecnologías de la Información y las Comunicaciones en la docencia de las instituciones educativas. El objetivo del presente estudio es explorar el grado en que las universidades españolas cumplen actualmente el criterio de la excelencia consistente en tener repositorios educativos y el modo en el que éstos han evolucionado a lo largo de estos años. Se espera que las conclusiones derivadas del análisis puedan contribuir al diseño de estrategias dirigidas a la promoción de la creación y el uso de materiales educativos digitales de alta calidad en España.
The repositories of digital educational materials allow teachers and students to easily share educational resources for their use in electronic and blended learning environments. Besides, educational repositories are an effective tool for the diffusion and quality assessment of teachers' educational material production. Not in vain, educational repositories work also as indicators of the excellence in use of ICT in the teaching/learning process. The aim of the present study is to explore the extent to which Spanish Universities currently meet the excellence criterion of having educational repositories and the new ways in which those have been developed along these years. The conclusions derived from the analysis are expected to contribute to the design of strategies aimed at promoting the creation and use of high quality digital educational material in Spain.
Collections