Publication:
NMR-detection of methylamine compounds in Atlantic salmon (Salmo salar) subjected to E-beam irradiation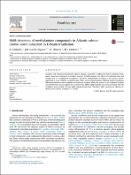 Advisors (or tutors)
Editors
Abstract
Exudates and muscles from Atlantic salmon samples, subjected to different E-beam irradiation treatments, have been employed to monitor, through 1 H NMR analysis, the effects of irradiation dose and storage time on methylamine compounds. The three methylamines identified in the spectra, [trimethylamine N-oxide (TMAO), trimethylamine (TMA) and monomethylamine (MMA)], showed significant differences between non-irradiated and irradiated samples. MMA was present in all irradiated samples, and absent from non-irradiated ones. Furthermore, MMA signal intensity was well correlated with the irradiation dose applied and was stable during storage time. Therefore, MMA could be an effective indicator of irradiation in samples of salmon.
Collections