Publication:
Elementos para una política de seguridad urbana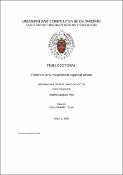 Files
Authors
Advisors (or tutors)
Editors
Publisher
Universidad Complutense de Madrid
Abstract
La seguridad es central en la agenda estatal por su relación con derechos ciudadanos en un Estado de Derecho. Este trabajo entra al debate sobre seguridad, aporta elementos en políticas públicas de seguridad urbana y da instrumentos metodológicos para su gestión. Además revisa la política de seguridad de Bogotá en 20 años, examina enfoques, identifica lecciones y formula recomendaciones para una política de seguridad urbana. El fin de la guerra fría y la Doctrina de Seguridad Nacional generó una explosión en el concepto de seguridad. Surgen enfoques como Seguridad Humana, Ciudadana o Comunitaria que sitúan a la persona en el eje de las políticas de seguridad. De la seguridad del Estado se pasó a la seguridad de los ciudadanos. Luego – tras los atentados a las Torres Gemelas en 2001 y el 11M de Madrid en 2004- el universo teórico y el ámbito de las políticas resultaron atrapados en la cruzada antiterrorista. A ello no escapa América Latina y Colombia, un país marcado por atávicas condiciones de violencia, predispuesto al miedo y con una sensación de inseguridad producto del conflicto armado, el narcotráfico y un Estado que no garantiza los derechos ciudadanos. Antanas Mockus (1995) en Bogotá marcó un antes y un después. Emergió el concepto de "cultura ciudadana", se fortalecieron la institucionalidad y los programas de prevención. La seguridad fue un tema público prioritario y se produjo una disminución de delitos de alto impacto, sobre todo el homicidio, por una acertada política de seguridad Distrital y un contexto nacional caracterizado por acuerdos de paz y el sometimiento de capos del narcotráfico...
Security is one of the central issues in the current State agendas by virtue of its direct relationship with the enjoyment of the fundamental rights of citizens. The security of major conurbations, due by concentrating the greater number of inhabitants, is one of the main objectives of any Social and Democratic Constitutional State. The general objective of this PhD dissertation, from an empirical baseline, in this case, the security policies of Bogotá, take part of the theoretical debate over security; provide elements for the formulation of public policies for urban security and provide some methodological tools in the management of the security of cities. As a case study, reviewing security policies of Bogotá over the past 20 years is done by examining the theoretical approaches adopted, contexts, actors and strategies, which allow identifying lessons and learnings that, can be raised to the rank of general recommendations for public policymaking on urban security. As a starting point, this PhD research work makes a revision to the different approaches of approaching the notion of "security", identifying its relationship with the concept of violence and its various manifestations in urban contexts. The theoretical foundation of this PhD work starts by recognizing, as proposed by the epidemiological approach, security and violence as a multi-causal phenomenon involving the adoption of prevention and control measures according to the specific needs of the territory and its citizens. Understanding, also, that security is a public good which implies a shared responsibility between the State, local authorities and civil society...
Description
Tesis inédita de la Universidad Complutense de Madrid, Facultad de Ciencias Políticas y Sociología, leída el 20-01-2016
Collections