Publication:
Correlation technique for the compensation of diffraction widening of optical reference signals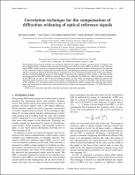 Advisors (or tutors)
Editors
Publisher
Optical Society of America
Abstract
Two-grating measurement systems are routinely employed for high-resolution measurements of angular and linear displacement. Usually, these systems incorporate zero reference codes (ZRCs) to obtain a zero reference signal (ZRS), which is used as a stage-homing signal. This signal provides absolute information of the position to the otherwise relative information provided by the two-grating incremental subsystems. A zero reference signal is commonly obtained illuminating the superposition of two identical pseudorandom codes and registering the transmitted light by means of a photodiode. To increase the resolution of the system, a reduction of the grating period and the ZRC widths is required. Due to this reduction, the diffractive effects produce a widening of the ZRS and, in turn, a loss of the measuring accuracy. In this work, we propose a method to narrow the distorted signal obtained with a Lau-based encoder, reinstating the accuracy of the ZRS. The method consists of the inclusion of a correlation mask on the detector. A theoretical model to design the mask has been developed, and experimental results have been obtained that validate the proposed technique.
Description
© 2009 Optical Society of America. This work has been supported by Center for Innovation in Transport (CENIT) project "Tecnologías avanzadas para los equipos y procesos de fabricación de 2015: e-eficiente, e-cológica, e-máquina (eEe)" of the Ministerio de Industria, Turismo y Comercio of Spain and by the Madrid Autonomous Community-University of Alcalá de Henares (CAM-UAH) project CCG08-UAH/TIC-3941.
Citation
1. L. M. Sanchez-Brea and T. Morlanes, "Metrological errors in optical encoders", Meas. Sci. Technol. 19, 1-8 (2008). 2. D. Crespo, J. Alonso, and E. Bernabeu, "Generalized grating imaging using an extended monochromatic light source", J. Opt. Soc. Am. A 17, 1231-1240 (2000). 3. D. Crespo, J. Alonso, T. Morlanes, and E. Bernabeu, "Optical encoder based on the Lau effect", Opt. Eng. (Bellingham) 39, 817-24 (2000). 4. L. M. Sanchez-Brea, J. Sáez-Landete, J. Alonso, and E. Bernabeu, "Invariant grating pseudoimaging using polychromatic light and a finite extension source", Appl. Opt. 47, 1470-1477 (2008). 5. Y. Xiangyang and Y. Chunyong, "A new method for design of zero reference marks for grating measurement systems", J. Phys. E 19, 34-37 (1986). 6. Y. Li, "Autocorrelation function of a bar code system", J. Mod. Opt. 34, 1571-1575 (1987). 7. Y. Li, "Optical valve using bar codes", Optik (Stuttgart) 79, 67-74 (1988). 8. J. Sáez-Landete, J. Alonso, and E. Bernabeu, "Design of zero reference codes by means of a global optimization method", Opt. Express 13, 195-201 (2005). 9. J. Sáez-Landete, S. Salcedo-Sanz, M. Rosa-Zurera, J. Alonso, and E. Bernabeu, "Optimal design of optical reference signals using a genetic algorithm", Opt. Lett. 30, 2724-2726 (2005). 10. J. Sáez-Landete, S. Salcedo-Sanz, M. Rosa-Zurera, J. Alonso, and E. Bernabeu, "Generation of optical reference signals robust to diffractive effects", IEEE Photon. Technol. Lett. 19, 1133-1135 (2007). 11. E. E. Fenimore and T. M. Cannon, "Coded aperture imaging with uniformly redundant arrays", Appl. Opt. 17, 337-347 (1978). 12. J. Jahns and A. W. Lohmann, "The Lau effect (a diffraction experiment with incoherent illumination)", Opt. Commun. 28, 263-267 (1979). 13. L. Mertz, Transformations in Optics (Wiley, 1965). 14. W. K. Pratt, Digital Image Processing (Wiley, 1991).
Collections