Publication:
Límites a la información en la práctica documental en el marco de la cooperación para el desarrollo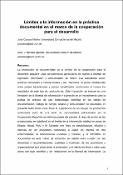 Advisors (or tutors)
Editors
Publisher
Sociedad Latina de Comunicación Social, SLCS
Abstract
La producción de documentales en el ámbito de la cooperación para el desarrollo adquiere unas características particulares en cuanto a libertad de expresión, información y comunicación se refiere. Las estructuras socio-políticas nacionales e internacionales y las relaciones de poder establecidas entre países benefactores y países beneficiados condicionan el hacer y los resultados de este tipo de producciones. Esta imposición se traduce en una limitación de la libertad de información y expresión en un impedimento para la puesta en práctica de una metodología científica en las tareas de documentación, trabajo de campo, análisis y comunicación de resultados. El presente texto toma como base la experiencia de un equipo de producción audiovisual autor de una serie de documentales patrocinados por la Cooperación Española en distintos países del planeta. El área de acción de las producciones se estableció en el ámbito de la intervención médica en zonas de Etiopía, Nepal, Perú y El Salvador con fines de sensibilización, difusión y defensa de los programas destinados a paliar los efectos de dos enfermedades: la leishmaniasis (cutánea y visceral) y el VIH/SIDA. El documental en este marco de actuación se debate entre cumplir con las directrices y recomendaciones, explícitas e implícitas, de los promotores y organizaciones que promueven la producción, y el intento de llevar a cabo unas obras con rigor científico y sin limitaciones en la libertad de información. La experiencia obtenida en estas producciones se presenta con el afán de enriquecer la metodología de realización de documentales en sus distintas fases de producción y suscitar el debate en torno a los componentes ideológicos, de censura y autocensura presentes en este tipo de obras.
The production of documentaries in the area of international cooperation programs for the development presents very particular characteristics regarding freedom of speech, information and communication. National and international social-politics structures and power relationships established between sponsor nations and developing countries interfere in the methods and results in this kind of production. This conditioning results in a limitation of freedom of information and in an obstacle to the implementation of a scientific methodology in terms of documentation, field research, analysis and communication of data. The present article is based on the experience of a film production team, author of a series of documentaries sponsored by the Spanish Cooperation Agency for Development (AECID) and produced in different countries over the world. The production was carried out within medical intervention programs in areas of Ethiopia, Nepal, Peru and El Salvador, with the purpose of advocacy, awareness and support to sanitary interventions to mitigate the negative effects of two illnesses: leishmaniasis (cutaneous and visceral) and AIDS/HIV. In this situation, documentary is torn between the need of following sponsors and organizations directions and recommendations (explicits and implicits); and the attempt of producing films of scientific rigour, non-affected by limitations on freedom of information. Our experience in this matter is presented in order to enrich documentary production methodology regarding the different steps of production, and to give rise to the discussion around ideology, limits to information, censorship and self-censorship issues in these type of films.
Description
Ponencia publicada en: Actas del V Congreso Internacional Latina de Comunicación Social. La Laguna, 2013.
Citation
Alvar, J. (2005): Spanish Contribution for the Control of Kala-azar in the Horn of Africa. Dec. 2005- Dec 2008. Publicación interna. (Leishmaniasis) Geneve: W.H.O. Benjamin, W. (1990): Pequeña historia de la fotografía. Madrid, Taurus. Buss, P. M, y Ferreira, J. R. (2010) Critical Essay on International Cooperation in Health. Revista Eletrónica de Comunicação, Informação e Inovação em Saude. v.4, N1, pp 86-97, Marzo. Río de Janeiro: RECIIS. Cuevas, J. (2006): Kala-azar, en el interior de la pobreza. (Documental). Producción: Organización Mundial de la Salud. Cuevas, J. (2007): Kala-azar: El viaje de Rajiv. (Documental). Producción: Organización Mundial de la Salud. Cuevas, J. (2008): El sello de la selva. (Documental). Producción: Organización Mundial de la Salud. Cuevas, J. (2009): Yo soy positivo ¿Y tú? (Documental) Producción: Liga Española para la Educación. Incluye también la documentación previa, sin publicar, de testimonios recopilados para la elaboración de esta obra. Fernández, J. M. (2000): "La construcción social de la pobreza en la sociología de Simmel". En Cuadernos de trabajo social 13: 15-32, Madrid. Levi- Montalcini, R. (2009): En entrevista concedida al diario El País, 18 de Abril de. Nacif Pimenta, D, Leandro A y Torres Schall, V, (2007): A estética do grotesco e a produção audiovisual para a educação em saúde: segregação ou empatia? O caso das leishmanioses no Brazil. Cad. Saúde Pública, Río de Janeiro, 23(5):1161-1171 (mayo) Pineda, M (2002). "Globalización, tecnologías de la información y diversidad cultural: homogenización Vs diferencias". La Laguna, Revista Latina de Comunicación Social 51 – junio - septiembre. pp: 1-4. Simmel, G y Jacobson, C. (1965): The Poor. Social problems, Vol. 13, Nº 2. pp 118-140. University of California Press.
Collections