Publication:
¿Existen las clases medias indígenas? Una mirada desde Bolivia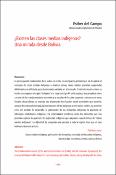 Authors
Advisors (or tutors)
Editors
Publisher
Agencia Española de Cooperación Internacional (AECID)
Abstract
La preocupación fundamental de la autora se centra en averiguar la pertinencia o no de aplicar el concepto de clases medias indígenas a América Latina; clases medias precarias, engarzadas débilmente con el Estado, pero fuertemente ancladas en el mercado. El artículo muestra cómo se ha ido construyendo el sujeto "indígena" a lo largo del siglo XX en la región, y busca explicar cómo a través de las transformaciones económicas y sociales de los años cuarenta y cincuenta en estos Estados desarrollistas, se produjo una importante movilización social ascendente que permitió, aunque de forma subordinada, la incorporación de los indígenas a este nuevo modelo. La posterior crisis del modelo de desarrollo, la politización de las demandas indígenas, la aparición de liderazgos intelectuales indígenas y la informalidad económica serán los elementos que nos permitan explicar la aparición de segmentos indígenas que adquieren características de "clases medias indígenas". La dificultad de extrapolar este proceso a toda la región, hace que el caso boliviano ilustre el artículo.
The fundamental concern of the author concentrates on finding out the relevance of applying theconcept of Indian middle classes to Latin America, poor middle classes, strung loosely with the state, but firmly anchored in the market. The article shows how the "indigenous" subject has been building throughout the twentieth century in the region, and seeks to explain how, through economic and social transformations in the forties and fifties in these developmental states, there was a significant upward social mobilization which allowed the subordinate incorporation of indigenous people. The subsequent crisis of the model, the politicization of indigenous demands, the emergence of indigenous intellectual leadership and economic informality are the elements that allow us to explain the emergence of indigenous segments characterized as "indigenousmiddle classes". The difficulty of extrapolating this process throughout the region, makes the Bolivian case illustrates the article.
Collections