Publication:
Herramienta de ayuda guiada para la reminiscencia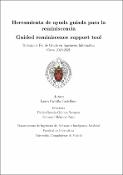 Authors
Editors
Abstract
Actualmente, unas 50 millones de personas sufren demencia, una cifra que va en aumento. La demencia y otros síndromes similares, que implican el deterioro de la memoria, son considerados una prioridad de salud pública, y afectan sobre todo a la población mayor de 60 años. Aunque el deterioro cognitivo no es algo reversible, sí que existen terapias que lo ralentizan. En este trabajo nos centramos específicamente en la memoria, y estudiamos cómo las terapias adecuadas ayudan a frenar la pérdida de la misma. Basándonos en ellas, construimos una herramienta de ayuda a la reminiscencia que permita la evocación de recuerdos a partir de sugerencias relevantes: conceptos de alto valor emocional extraídos de un análisis de texto previo y archivos multimedia personales. La aplicación pretende ser un apoyo tanto para terapeutas como para familiares. A partir del proceso guiado que presentan ambos estímulos, ellos se encargarán de introducir toda la información que el afectado recuerde, resultando en un almacén de recuerdos y del progreso realizado. La visualización de dicha información se presenta de varias maneras, siendo las más relevantes en grafos y diccionarios.
As of today, an estimated 50 million people suffer from dementia, and this number continues to grow. Dementia and other similar syndromes, which involve memory loss, are considered a public health priority, mainly affecting people over the age of 60. Although cognitive impairment is not reversible, therapies that can slow it down exist. In this paper we focus specifically on memory, and study how appropriate therapies help to slow down the process of memory loss. Based on these, we build a reminiscence support tool that allows the evocation of memories based on relevant suggestions: emotionally valuable concepts extracted from a previous text analysis and personal multimedia files. The application is intended to support both therapists and family members. Based on the guided process presented by the two stimuli, they will input all the information that the concerned person remembers, resulting in a warehouse of memories and progress made. The visualisation of this information is presented in various ways, being graphs and dictionaries the most relevant.
Description
Trabajo de Fin de Grado en Ingeniería Informática, Facultad de Informática UCM, Departamento de Ingeniería del Software e Inteligencia Artificial, Curso 2020/2021.