Publication:
Un nuevo modelo en el consumo de entretenimiento. Internet y las nuevas vías de comunicación: Twitch y Youtube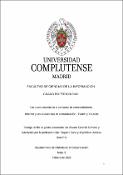 Authors
Advisors (or tutors)
Editors
Abstract
El presente trabajo de Fin de Grado analiza el cambio producido en la historia de la comunicación tras la llegada de las nuevas plataformas audiovisuales a nuestra sociedad, a los nativos digitales y a las generaciones Millenial y Z. Las nuevas plataformas audiovisuales están cambiando nuestros hábitos de consumo, a la vez que han transformado la realidad social de nuestros días. Hoy no nos informamos de la misma forma en la que lo hacían nuestros padres y es por ello por lo que surgió esta idea de análisis. El objetivo es mostrar los datos sobre cómo y de qué forma la llegada de estas nuevas herramientas ha cambiado la historia del consumo de la comunicación y cómo afecta a nuestro día a día. Para ello, en primer lugar, se hablará del contexto por el cual se ha pasado a no consumir contenido de la misma forma que hace unas décadas. En segundo lugar, se tratará de contextualizar cuales han sido las razones, causas y efectos del auge de estas herramientas. Y, por último, se tratará de analizar el perfil y el público objetivo de los consumidores para poder comparar y refutar la idea con la que se afronta este análisis con datos cuantitativos.
This Final Degree Project analyzes the change produced in the history of communication after the arrival of the new audiovisual platforms in our society, the digital natives and the Millennial and Z generations. The new audiovisual platforms are changing our consumption habits , at the same time that they have transformed the social reality of our days. Today we do not inform ourselves in the same way that our parents did and that is why this idea of analysis arose. The objective is to show the data on how and in what way the arrival of these new tools has changed the history of communication consumption and how it affects our daily lives. To do this, first of all, we will talk about the context by which we have gone from consuming content in the same way as a few decades ago. Second, it will try to contextualize what have been the reasons, causes and effects of the rise of these tools. And, finally, it will try to analyze the profile and the target audience of consumers in order to compare and refute the idea with which this analysis is faced with quantitative data.