Publication:
La vida amorosa de las "rusalki"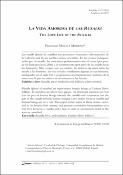 Authors
Advisors (or tutors)
Editors
Abstract
Las "rusalki" (plural de "rusalka") son personajes femeninos sobrenaturales de la tradición oral de los pueblos eslavos orientales. En los relatos protagonizados por las "rusalki", las emociones predominantes son el temor (por parte de los humanos hacia ellas) y el resentimiento (por parte de las "rusalki" hacia los humanos). Muy escasas son, en cambio, las historias de amor entre las "rusalki" y los hombres. En este artículo, estudiamos algunas de esas historias, atestiguadas en los siglos XX y XXI, y proponemos una hipótesis interpretativa de la rareza con la que ese motivo se documenta en las fuentes.
"Rusalki" (plural of "rusalka") are supernatural female beings of Eastern Slavic folklore. In narratives in which they appear, the dominant emotions are fear (on the part of human beings towards the "rusalki") and resentment (on the part of the "rusalki" towards human beings). Love stories between "rusalki" and human beings are very rare. This paper studies some of those stories, recorded in the twentieth and twenty-first centuries, and proposes a tentative interpretation as to why love between a "rusalka" and a man is such an uncommon motif in the sources consulted.
Collections