Publication:
Rapid PCR Method for the Selection of 1,3-Pentadiene Non-Producing Debaryomyces hansenii Yeast Strains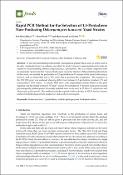 Advisors (or tutors)
Editors
Abstract
To prevent microbial growth and its consequences, preservatives such as sorbic acid or its salts, commonly known as sorbates, are added to foods. However, some moulds and yeasts are capable of decarboxylating sorbates and producing 1,3-pentadiene. This is a volatile compound with an unpleasant "petroleum-like "odour, which causes consumer rejection of the contaminated products. In this work, we studied the production of 1,3-pentadiene in 91 strains of the yeast Debaryomyces hansenii, and we found that nearly 96% were able to produce this compound. The sequence of the FDC1Dh gene was analysed showing differences between 1,3-pentadiene producer (P) and non-producer (NP) strains. A specific PCR assay with degenerated primers based on the gene sequence was developed to discern NP and P strains. It was tested on D. hansenii strains and on some physiologically related species frequently isolated from foods, such as D. fabrii, D. subglobosus and Meyerozyma guillermondii. This method could be applied for the selection of NP D. hansenii strains, useful in biotechnological food production and as a biocontrol agent.
Collections