Publication:
Marco de emulación térmica para MPSoCs basado en NoC con DVFS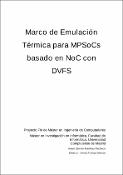 Authors
Advisors (or tutors)
Editors
Abstract
El escalado en la tecnología impone un creciente stress sobre la temperatura en el diseño de circuitos digitales debido a la densidad de transistores, especialmente en sistemas de alta integración como son los Multi-Processor System-on-Chip (MPSoCs). De esta manera, los diseños que tengan en cuenta la temperatura son necesarios y deben ser implementados en las fases tempranas del diseño de los MPSoCs para evitar iteraciones y retrasos en el desarrollo del producto final para el consumidor. En este proyecto presentamos una novel infraestructura de hardware que provee control térmico de las arquitecturas MPSoC, la cual está basada en explotar la interconexión de la NoC del sistema base como un componente activo que comunique y coordine entre los sensores de temperatuea colocados dentro del chip, de esta manera se puede monitorizar globalmente la temperatura actual del sistema. Entonces, una thermal management unit y unos clock frequency controllers son incluidos como parte de la infraestructura térmica activa basada en NoC para ajustar la frecuencia y el voltaje de los elementos de proceso de acuerdo con los requerimientos de temperatura de cada diseño de los MPSoC en runtime. Mostramos resultados experimentales de la aplicación de la propuesta infraestructura de manejo térmico basada en NoC activa para implentar unas efectivas políticas de control térmico de ámbito global para un MPSoC de 4 cores de la vida real, corriendo benchmarks de procesado de video de la vida real, emulados en un marco de emulación térmica basado en una FPGA. Además, debido al mejor balance térmico de nuestro propuesto control térmico basado en NoC activa, el rendimiento del MPSoC mejora al menos un 40% y consigue un 45% de ahorro de energía respecto a las aproximaciones de control térmico con DVFS local. [ABSTRACT] Technology scaling imposes an ever increasing temperature stress on digital circuit design due to transistor density, especially on highly integrated systems, such as Multi-Processor Systems-on-Chip (MPSoCs). Therefore, temperatureaware design is mandatory and should be performed at the early design stages of MPSoCs to avoid iterations and delays in the deployment of final consumer products. In this proyect we present a novel hardware infrastructure to provide thermal control of MPSoC architectures, which is based on exploiting the NoC interconnects of the baseline system as an active component to communicate and coordinate between temperature sensors scattered around the chip, in order to globally monitor the actual temperature of the system. Then, a thermal management unit and clock frequency controllers are included as part of the active NoC-based thermal control infrastructure to adjust the frequency and voltage of the processing elements according to the temperature requirements of each MPSoC design at runtime. We show experimental results of the application of the proposed active NoC-based thermal management infrastructure to implement effective global temperature control policies for a real-life 4-core MPSoC, running real-life video processing benchmarks, emulated on an FPGA-based thermal emulation framework. Furthermore, due to the better thermal balancing of our proposed active NoC-based thermal control, the MPSoC performance improves almost 40% and achieves 45% energy savings with respect to local DVFS thermal control approaches.
Description
Máster en Investigación en Informática, Facultad de Informática, Departamento de Arquitectura de Computadores y Automática, curso 2008-2009