Publication:
Preliminary results of static and dynamic reconstruction of Güevéjar landslide (Granada, Spain) during 1755 Lisbon and 1884 Andalusian earthquakes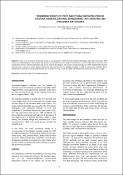 Advisors (or tutors)
Editors
Abstract
In this work, we present preliminary results of a reconstruction of the Güevéjar landslide (Granada, south Spain) during the 1755 Lisbon and 1884 Andalusian earthquakes. We perform a back‐analysis of the landslide to estimate the static safety factor and the critical acceleration previous to both earthquakes and for the present‐day situation. We obtain a critical intensity of V which matches the minimum intensity grade required to trigger coherent landslides. We conclude that the Güevéjar landslide is stable at present‐day conditions but its reactivation is expected in case of an earthquake with a similar intensity to that during the 1884 Andalusian earthquake (I=VI‐VII) or larger.
Citation
Azañón, J.M., Azor, A., Cardenal Escarcena, J.F., Delgado García, J., Delgado Marchal, J., Gómez Molina, A., López Chicano, M., López Sánchez, J.M., Mallorqui Franquet, J.J., Martín Rosales, W., Mata de Castro, E., Mateos Riuz, R., Nieto García, F., Peña Ruano, J.A., Pérez García, J.L., Puerma Castillo, M., Rodríguez Fernández, J., Teixidó Ullod, T., Tomás Jover, R., Tsige Aga, M., Yesares García, J. (2006). Estudio sobre la predicción y mitigación de movimientos de ladera en vías de comunicación estratégicas de la Junta de Andalucía. Informe final. Instituto Andaluz de Ciencias de la Tierra, CSIC‐UGR (Ed.), Granada (Spain). Jibson, R.W. (1996). Use of landslides for paleoseismic analysis. Engineering Geology, 43, 291‐323. Jiménez Pintor, J. El deslizamiento de Güevéjar. M.Sc. Thesis in Engineering Geology. Universidad de Granada, 85 pp. Jiménez Pintor, J. and Azor, A. (2006). El Deslizamiento de Güevéjar (provincia de Granada): un caso de inestabilidad de laderas inducida por sismos. Geogaceta, 40, 287‐290. Keefer, D.K (1984). Landslides caused by earthquakes. Geological Society of America Bulletin, 95, 406‐421. Keefer, D.K. (2002). Investigating landslides caused by earthquakes ‐ A historical review. Surveys in Geophysics, 23, 473‐510. Martínez Solares, J.M. and López Arroyo, A. (2004). The great historical 1755 earthquake. Effects and damage in Spain. Journal of Seismology, 8, 275‐294. Muñoz, D. and Udías, A. (1981). Estudio de los parámetros y serie de replicas del terremoto de Andalucía del 25 de Diciembre de 1884 y la sismicidad de la región de Granada‐Málaga. In: El Terremoto de Andalucía de 25 de Diciembre de 1884. Instituto Geográfico Nacional (Ed.), Madrid (Spain), 95‐139. Newmark, N.M. (1965). Effects of earthquakes on dams and embankments. Géotechnique, 15, 139‐160. Sanz Pérez, E. (1992). El deslizamiento de ladera de Güevéjar (Granada) durante los terremotos de Lisboa (1755) y Andalucía (1884). III Simposio Nacional sobre Taludes y Laderas Inestables. La Coruña (Spain), 195‐203. Rocscience Inc. (2003). Slide 5.0 User's Guide. Part I. 199 pp.