Publication:
Diseño y Desarrollo de un Conjunto de Herramientas de Producción para Facilitar la Accesibilidad Auditiva en Videojuegos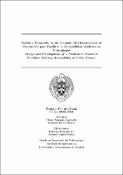 Advisors (or tutors)
Editors
Abstract
La accesibilidad es un aspecto del desarrollo de videojuegos que no ha sido trabajado en profundidad por la mayoría de las empresas y que, sin embargo, puede tener un gran impacto en la jugabilidad, no solo para aquellas personas con algún tipo de discapacidad, sino también para un amplio número de jugadores que utilizan las características de accesibilidad para mejorar su experiencia de juego, atendiendo a muy diversas razones. Este potencial es algo que la industria están empezando a considerar seriamente como atestigua el Reconocimiento a la Accesibilidad en Videojuegos que otorga The Game Awards desde su pasada edición de 2020. Algunas de estas características, como los subtítulos, se llevan implementando en los videojuegos desde hace mucho tiempo, pero a menudo de una forma demasiado simple y sin el apoyo de otras técnicas complementarias que permitan abordar las cuestiones de accesibilidad desde varios frentes. El objetivo de este proyecto es el desarrollo de un conjunto de herramientas llamadas Accessible Audio Toolkit que extienden el entorno de desarrollo Unity permitiendo a los desarrolladores introducir fácilmente en sus juegos técnicas configurables de accesibilidad auditiva, tales como mostrar la direccionalidad del sonido mediante una brújula y/o un radar 3D, además de mostrar subtítulos más configurables. Los resultados han sido comprobados de manera experimental, añadiendo estas características a un videojuego sencillo pero donde el sonido es importante, Death Impact, poniendo a jugadores a jugarlo sin sonido, para confirmar la eficacia de nuestra herramienta. Tras las pruebas este software ha sido publicado en la Unity Asset Store, permitiendo así que la comunidad de desarrolladores lo integre en sus próximos proyectos.
Accessibility is an aspect of video game development that has not been worked on to a great extent by most companies and that, however, can have a great impact on gameplay, not only for those with some type of recognized disability, but also for a large number of players who use the provided accessibility features to enhance their gaming experience, attending to very diverse reasons. This potential is something that the industry is beginning to seriously consider, as attested by the Recognition of Accessibility in Videogames that The Game Awards has given since its last edition in 2020. Some of these features, such as subtitles, have been implemented in video games for a long time, but often in an excessively simplistic way and without the support of other complementary tools that allow accessibility issues to be addressed from several fronts. The objective of this project is the development of a set of tools called Accessible Audio Toolkit that extend the Unity development environment allowing developers to easily introduce configurable hearing accessibility techniques into their games, such as showing the directionality of sound using a compass and/or a 3D radar, in addition to displaying more configurable subtitles. The results have been experimentally verified, adding these characteristics to a simple video game but where sound is important, Death Impact, putting players to play it without sound, to confirm the effectiveness of our tool. After testing, this software has been published on the Unity Asset Store, thus allowing the developer community to integrate it into their next projects.
Description
Trabajo de Fin de Grado en Desarrollo de Videojuegos, Facultad de Informática UCM, Departamento de Ingeniería del Software e Inteligencia Artificial, Curso 2022-21.