Publication:
Trastornos de la personalidad: psicopatología y tratamiento jurídico-penal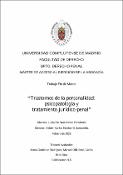 Authors
Advisors (or tutors)
Editors
Abstract
El ámbito de la Psicología ha estado estudiando durante décadas los trastornos de la personalidad como consecuencia de su naturaleza ambigua, con el objetivo de determinar las causas de su presencia en la mente de las personas y un tratamiento que logre paliar los efectos perjudiciales que proyecta sobre el diagnosticado y su entorno. Esa esencia cobra especial significación cuando el individuo con "TP" comete un delito, ya que su condición psicológica conduce al surgimiento de cuestiones relacionadas, entre otras, con su imputabilidad, con la prueba a aportar durante el procedimiento judicial, y con las consecuencias jurídicas derivadas del delito. Considerando, por ello, que estos trastornos mentales presentan especialidades tanto en su tratamiento material como procesal, en el presente trabajo se analizarán desde el punto de vista legal y jurisprudencial con breves referencias al psicológico.
The field of Psychology has been studying personality disorders for decades as a consequence of their ambiguous nature, with the aim of determining the causes of their presence in people's minds and a treatment that manages to mitigate the harmful effects that they project on the diagnosed and their environment. This essence takes on special significance when the individual with "PD" commits a crime, since his psychological condition leads to the emergence of issues related, among others, to his imputability, to the evidence to be provided during the legal proceedings, and to the legal consequences derived from the crime. Considering that these mental disorders present specialties both in their material and procedural treatment, in the present work they will be analyzed from the legal and jurisprudential point of view with brief references to the psychological one.