Publication:
La administración de la comunión de los indios en el Virreinato del Perú: un festín sin banquete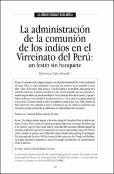 Authors
Advisors (or tutors)
Editors
Publisher
Universidad Nacional Autónoma de México
Abstract
El calendario festivo religioso impuesto a los indios del Virreinato del Perú incluía la celebración del Corpus Christi, en la que participaban activamente, aun cuando no les era permitido un acceso pleno y libre a la eucaristía, desde que en el I Concilio Limense se les prohibiera, salvo permiso de la autoridad competente. El problema inmediato que esta medida conllevaba tenía una importante dimensión argumentativa que pone de manifiesto el Tercer catecismo, traducido al quechua, y que planteaba el problema de cómo defender los beneficios eucarísticos y a la vez vedar la completa participación en los mismos. el presente estudio se dedica en particular al modo en que, hacia 1645, Francisco de Ávila, durante las misas celebradas el jueves y el domingo de ese año, abunda en explicaciones que concilian la paradoja emanada de las restricciones en la administración del sacramento.
The religious calendar imposed to the natives during the Viceroyalty of Peru included the celebration of corpus christi, in which they actively participated, despite them not having full and free access to the eucharist, since the i Lima council forbid it, except when then competent authorities allowed. The immediate problem that arose from this measure had an important argumentative charge in the Third catechism, translated to quechua: how to defend the eucharist benefits while preventing full participation. This study deals with the way in 1645 by Francisco de Ávila during mass that Thursday and the following sunday, abounded in explanations to reconcile the paradox emanated from the restricted administration of sacrament.
Collections