Publication:
Morbilidad diferencial en las cesáreas anteriores: elegir entre un parto vaginal y una cesárea iterativa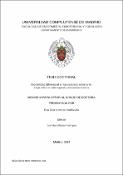 Files
Authors
Advisors (or tutors)
Editors
Publisher
Universidad Complutense de Madrid
Abstract
INTRODUCCIÓN: El nacimiento después de una cesárea se ha caracterizado por cambios dramáticos en la práctica obstétrica y unas políticas restrictivas cada vez más cuestionadas. El éxito del PVDC varía entre 56%-80%, aunque la proporción de mujeres que intentan un parto vaginal es cada vez menor. Se han realizado estudios que demuestran la existencia de beneficios y daños asociados con la cesárea electiva y el parto vaginal después de cesárea. Se pretende conocer la incidencia de morbilidad en las mujeres con una cesárea previa y sus hijos, aportando nuevos datos que ayuden a conocer la opción más adecuada y segura tanto para la madre como su hijo. METODOLOGÍA: Diseño longitudinal con una única cohorte, en la que los sujetos presentan el antecedente de cesárea. La evaluación de la morbilidad se ha realizado con la historia clínica y tres entrevistas: al alta hospitalaria, 15 y 42 días posparto. Además se ha evaluado la duración de la estancia hospitalaria, visitas a algún servicio de urgencias posterior al alta, dolor según EVA, satisfacción materna según escala tipo likert y depresión posparto mediante la escala de Edimburgo. RESULTADOS: Las mujeres con un parto vaginal exitoso tienen mejores resultados que aquellas que deciden someterse a una cesárea iterativa, con una tasa de éxito del PVDC de 80,88% y una incidencia de rotura uterina del 1,8%. La morbilidad para las mujeres con una cesárea es del 26,2%, con parto vaginal 20% y 61,5% con PVDC fallido (p>0,015). La morbilidad para los niños nacidos con una cesárea ha sido 14,3%, con parto vaginal 27,3% y 46,2% con PVDC fallido (p>0,059). CONCLUSIONES: El parto vaginal ofrece una mejor y más rápida vuelta a las actividades cotidianas, siendo una guía para todas esas mujeres que dudan a la hora de elegir su modo de parto preferido, desde una visión más personal y satisfactoria para cada mujer.
INTRODUCTION: The birth after a previous cesarean section has been characterized by dramatic changes in obstetric practice and restrictive policies increasingly challenged. The success rates of vaginal birth after previous cesarean varies between 56% and 80%, although the proportion of women who attempt a vaginal birth is declining. Have been studies that show the existence of both benefits and harms associated with elective caesarean delivery and vaginal birth after cesarean. It aims to determine the incidence of morbidity in women with a previous cesarean section and her children, providing new data to help determine the most appropriate and safe option for the mother and her son. MATERIAL AND METHODS: Longitudinal design with a unique cohort, in which all subjects had a cesarean section as antecedent. The morbidity assessment was carried out through a medical history review and three interviews: at hospital discharge, 15 days and 42 days postpartum. Also the duration of hospital stay, the attendance to some service after hospital discharge, pain intensity VAS, maternal satisfaction according to Likert scale and postpartum depression using the Edinburgh scale were evaluated. RESULTS: Women with a successful vaginal birth have better outcomes than those who choose to undergo an iterative cesarean, with a success rate of VBAC of 80.88 % and an incidence of uterine rupture of 1.8%. The morbidity for women with a caesarean section is 26.2%, with a vaginal birth 20 % and 61.5% with a failed VBAC (p>0,015). The morbidity for children born with a cesarean section was 14.3%, with vaginal delivery 27.3 % and with a failed VBAC 46.2 % (p 0.059). CONCLUSIONS: The vaginal delivery offers a better and quicker return to daily activities, being a guide to all those women who are hesitant to choose their preferred mode of delivery, from a more personal and satisfying vision for every woman.
Description
Tesis inédita de la Universidad Complutense de Madrid, Facultad de Enfermería, Fisioterapia y Podología, leída el 16-10-2014
Collections