Publication:
Role of synthetic plant extracts on the production of silver-derived nanoparticles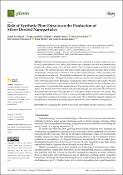 Advisors (or tutors)
Editors
Abstract
The main antioxidants present in plant extracts—quercetin, β-carotene, gallic acid, ascorbic acid, hydroxybenzoic acid, caffeic acid, catechin and scopoletin—are able to synthesize silver nanoparticles when reacting with a Ag NO3 solution. The UV-visible absorption spectrum recorded with most of the antioxidants shows the characteristic surface plasmon resonance band of silver nanoparticles. Nanoparticles synthesised with ascorbic, hydroxybenzoic, caffeic, and gallic acids and scopoletin are spherical. Nanoparticles synthesised with quercetin are grouped together to form micellar structures. Nanoparticles synthesised by β-carotene, were triangular and polyhedral forms with truncated corners. Pentagonal nanoparticles were synthesized with catechin. We used Fourier-transform infrared spectroscopy to check that the biomolecules coat the synthesised silver nanoparticles. X-ray powder diffractograms showed the presence of silver, AgO, Ag2O, Ag3O4 and Ag2O3 . Rod-like structures were obtained with quercetin and gallic acid and cookie-like structures in the nanoparticles obtained with scopoletin, as a consequence of their reactivity with cyanide. This analysis explained the role played by the various agents responsible for the bio-reduction triggered by nanoparticle synthesis in their shape, size and activity. This will facilitate targeted synthesis and the application of biotechnological techniques to optimise the green synthesis of nanoparticles.
Collections