Publication:
Sealing and Dentin Bond Strengths of Adhesive Systems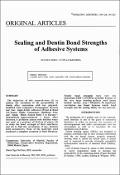 Advisors (or tutors)
Editors
Abstract
The objectives of this research were (1) to analyze the variations of the permeability of dentin after restoration with two polyacid-modified resin composites (Compoglass, Dyract) and four single-bottle adhesives (Prime & BOnd 2.0, Syntac Single Component, OptiBond Solo, and Single Bond -Scotch Bond 1 in Europe- immediately (approximately 1 hour) after insertion. A perfusion system with distilled water was used at a pressure of 32.5 cm of water; (2) to study the bond strength of their interfaces; and (3) to find the correlation, if any, between both parameters. None of the materials used produces a complete cessation in fluid filtration. Tensile strengths were very low (maximum: P&B=3.96MPa) probably because of the very large bonding surfaces used (mean bonded surface area = 88.8mm²). No significant correlation was found between tensile bond strength and the sealing ability for any material.
Collections