Publication:
The ASAAF-UCM project with PARTNeR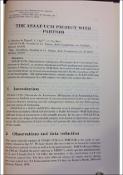 Files
Advisors (or tutors)
Abstract
ASAAF-UCM (ASociación de Astrónomos AFicionados de la Universidad Complutense de Madrid), an amateur association with both, graduated and undergraduate students of Physics, is involved in PARTNeR. As a result of this work and several runs of obsevation, we present measurements related to the flux variations of SGR-A* at cm-wavelengths. The global educational research project of ASAAF-UCM also includes the development of a GPL sowtware to reduce and analyze the data.
Citation
[1] Falke, H. 1999, in ASP Conf. 186: "The Central Parsecs of the Galaxy", 183,113. [2] Sánchez de Miguel, A. 2004 in "XVI Jornadas Españolas de Astronomía" [3] Sánchez de Miguel, A, Díaz López, C., Astronomía, ISSN 1699-7751, Nº. 84, 2006 , págs. 68-74
Collections