Publication:
Mito y trascendencia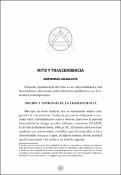 Advisors (or tutors)
Abstract
"Les Mouches" de Sartre y "Le Deuxième Sexe" de Simone de Beauvoir son obras antimíticas. Donde no hay trascendencia, no puede haber ni drama mítico ni ensayo mítico. Sin embargo, "Phèdre" de Yourcenar y en "Apologie pour Clytemnestre" de Simone Bertière sí son obras auténticamente míticas: el desacuerdo de las heroínas con los dioses y las diosas prueba que son conscientes de la trascendencia divina.
Sartre's Les Mouches and Simone de Beauvoir's Le Deuxième Sexe are antimythological works. Where there is no trascendence, there cannot be neither mythical drama nor mythical essay. However, Yourcenar's Phedre and S. Bertière's Apologie pour Clytemnestre are authentic mythical works: their heroines' disagreement with the will of gods proves that they are well aware of the divine transcendence of gods.
Collections