Publication:
Estudio petrológico y geocronológico del plutón granítico post-cinemático de Neira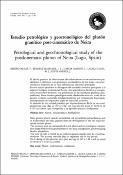 Advisors (or tutors)
Editors
Publisher
Seminario de Estudos Galegos. Area de Xeoloxía e Minería ; Instituto Universitario de Xeoloxía "Isidro Parga Pondal"
Abstract
El plutón granítico de Neira intruye discordantemente en metasedimentos precámbricos y cámbricos y en granitoides sincinemáticos de dos micas, con posterioridad al desarrollo de las fases deformativas hercínicas principales. En este macizo plutónico se distinguen dos unidades intrusivas principales y el espectro litológico fundamental fluctua entre granodioritas biotíticas y leucogranitos moscovíticos-biotíticos, con predominio de las variedades graníticas (adamellíticas). Estos términos petrológicos están relacionados entre sí a través de un proceso evolutivo controlado fundamentalmente por cristalización fraccionada, desempeñando un importante papel los minerales accesorios. La datación de esta unidad plutónica por el procedimiento Rb-Sr en roca total, proporciona una edad de 287 ± 5 Ma, con una relación inicial 87 Sr / 86 Sr de 0.7074 ± 0_0004, que corresponde a un episodio intrusivo Estefaniense.
Neira granitic pluton intrudes in cambrian and precambrian metasediments and in synkinematic two mica granites after the development of the two main hercynian tectonic phases. Two intrusive units are distinguished in this pluton and its petrological composition ranges from biotitic granodiorites to two mica leucogranites, predominating biotitic adamellites. This suite of rocks is related by an evolution process mainly ruled by crystal fractionation. The accesory minerals play an important role in this process. Rb-Sr dating of this plutonic unit gives and age of 287 ± 5 M Y and an initial 87 Sr/86 Sr = 0.7074 ± 0_0004.
Collections