Publication:
Analysis of Islet-1, Nkx2.1, Pax6, and Orthopedia in the forebrain of the sturgeon Acipenser ruthenus identifies conserved prosomeric characteristics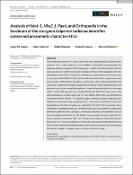 Advisors (or tutors)
Editors
Abstract
The distribution patterns of a set of conserved brain developmental regulatory transcription factors were analyzed in the forebrain of the basal actinopterygian fish Acipenser ruthenus, consistent with the prosomeric model. In the telencephalon, the pallium was characterized by ventricular expression of Pax6. In the subpallium, the combined expression of Nkx2.1/Islet-1 (Isl1) allowed to propose ventral and dorsal areas, as the septo-pallidal (Nkx2.1/Isl1+) and striatal derivatives (Isl1+), respectively, and a dorsal portion of the striatal derivatives, ventricularly rich in Pax6 and devoid of Isl1 expression. Dispersed Orthopedia (Otp) cells were found in the supracommissural and posterior nuclei of the ventral telencephalon, related to the medial portion of the amygdaloid complex. The preoptic area was identified by the Nkx2.1/Isl1 expression. In the alar hypothalamus, an Otp-expressing territory, lacking Nkx2.1/Isl1, was identified as the paraventricular domain. The adjacent subparaventricular domain (Spa) was subdivided in a rostral territory expressing Nkx2.1 and an Isl1+ caudal one. In the basal hypothalamus, the tuberal region was defined by the Nkx2.1/Isl1 expression and a rostral Otp-expressing domain was identified. Moreover, the Otp/Nkx2.1 combination showed an additional zone lacking Isl1, tentatively identified as the mamillary area. In the diencephalon, both Pax6 and Isl1 defined the prethalamic domain, and within the basal prosomere 3, scattered Pax6- and Isl1-expressing cells were observed in the posterior tubercle. Finally, a small group of Pax6 cells was observed in the pretectal area. These results improve the understanding of the forebrain evolution and demonstrate that its basic bauplan is present very early in the vertebrate lineage.
El prosencéfalo constituye un territorio único en el cerebro en cuanto a su organización anatómica y a sus implicaciones en la conducta y las habilidades cognitivas de los animales. Está compuesto por el telencéfalo, el hipotálamo y el diencéfalo, todos ellos el centro funcional de lo que comúnmente se conoce como "los centros del procesamiento superior". A pesar de los que frecuentemente se piensa, esta organización no es exclusiva de los mamíferos, sino que en los últimos años cada vez hay más evidencias de que también se encuentra en la gran mayoría de los vertebrados, a pesar de que presentan una gran diversidad de adaptaciones funcionales, apoyando la existencia de un patrón básico de organización del prosencéfalo en todos los vertebrados. En el presente análisis, con el objetivo de analizar los patrones de expresión de un conjunto de factores de transcripción reguladores del desarrollo, se utilizó como modelo de estudio el pez condrosteo Acipenser ruthenus, considerados los taxones existentes más estrechamente relacionados con los actinopterigios primitivos, que vivieron en el Paleozoico, por lo que comparten con ellos numerosas características. Los resultados del análisis mostraron que su organización es consistente con la descrita en el resto de los vertebrados analizados y consistente con el modelo prosomérico. Estos resultados mejoran la comprensión de la evolución del prosencéfalo y demuestran que su patrón básico de organización está presente desde muy temprano en el linaje de los vertebrados.
Collections