Publication:
Desarrollo de aplicación para recogida de datos en estudio clínico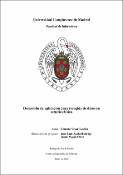 Authors
Advisors (or tutors)
Editors
Abstract
Las cefaleas en racimo o cefaleas de Horton son un tipo de cefaleas primarias caracterizadas por su dolor extremadamente intenso y repetitivo que puede presentarse en episodios de duración variable de entre 15 minutos y más de 3 horas que pueden repetirse hasta 10 veces en un mismo día. Este tipo de cefaleas son una patología que afecta a 1 de cada 1.000 personas siendo más común en hombres que en mujeres. Actualmente los mecanismos y las causas concretas que desencadenan los brotes de estas cefaleas no son del todo conocidos. Por otro lado se tiene conocimiento de que ciertos tratamientos como Sumatriptán y Zolmitriptán o la inhalación de oxígeno son tratamientos bastante útiles para paliar el dolor de los brotes. El objetivo principal de este Trabajo de Fin de Grado es comprobar si existe una relación entre las variaciones de ciertos valores atmosféricos y de polución, tales como la presión atmosférica o la humedad, y los episodios de dolor. Se tiene la hipótesis de que en el periodo previo al inicio de un episodio podrían producirse cambios en las variables ambientales que resulten en cambios fisiológicos del paciente dando lugar al episodio de dolor. Así mismo el estudio contempla el seguimiento de los hábitos de vida de los pacientes con el fin de hallar posibles desencadenantes del dolor. Los principales problemas de un estudio clínico como este son por un lado el recopilar información valiosa de los pacientes que padecen esta patología y el posterior manejo y estudio de dichos datos. Para recopilar datos que sean estudiados se ha desarrollado una aplicación nativa para dispositivos móviles con el SO de Google Android. Dicha aplicación permite al paciente introducir los datos de manera sencilla y con una interfaz amigable, por otro lado, la aplicación también permite a los médicos que forman parte del estudio clínico visualizar de manera rápida y sencilla los datos introducidos por los pacientes de manera rápida y sin la necesidad de concertar una cita presencial. Gracias a esta aplicación se desea poder llevar a cabo un estudio clínico de manera que tanto el paciente como el médico cuenten con una forma sencilla, amigable y online de proporcionar distintos datos y llevar un seguimiento de estos datos dentro del marco del estudio clínico para poder comprobar si hay algún factor atmosférico que desencadene los brotes o racimos de este tipo de cefaleas.
Cluster headaches or Horton's headaches are a type of primary headache characterized by extremely intense, repetitive pain that may occur in episodes of varying duration from 15 minutes to more than 3 hours and may repeat up to 10 times a day. This type of headache is a pathology that affects 1 out of every 1,000 people and is more common in men than in women. Currently the mechanisms and specific causes that trigger these headaches are not completely known. On the other hand, it is known that certain treatments such as Sumatriptan and Zolmitriptan or the inhalation of oxygen are quite useful treatments to palliate the pain of clusters. The main objective of this End-of-Grade Work is to check whether there is a relationship between variations in certain atmospheric and pollution values, such as atmospheric pressure or humidity, and the episodes of pain. It is hypothesized that in the period prior to the onset of an episode there could be changes in environmental variables that result in physiological changes in the patient leading to the pain episode. The study also includes the monitoring of patients' lifestyle habits in order to find possible pain triggers. The main problems of a clinical study such as this one are, on the one hand, the collection of valuable information from patients suffering from this pathology and the subsequent handling and study of such data. In order to collect data to be studied, a native application for mobile devices with Google Android OS has been developed. This application allows the patient to enter the data in a simple way and with a friendly interface. On the other hand, the application also allows the doctors who are part of the clinical study to visualize the data entered by the patients in a quick and easy way and without the need to make an appointment in person. Thanks to this application, we want to be able to carry out a clinical study so that both the patient and the doctor have a simple, user-friendly, online way of providing different data and keeping track of these data within the framework of the clinical study in order to check whether there is any atmospheric factor that triggers outbreaks or clusters of this type of headache.
Description
Trabajo de Fin de Grado en Ingeniería del Software, Facultad de Informática UCM, Departamento de Arquitectura de Computadores y Automática, Curso 2019/2020