Publication:
Edificios teatrales en Venezuela durante el gobierno de los hermanos Monagas (1847-1858)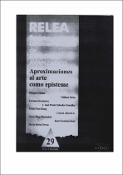 Advisors (or tutors)
Editors
Publisher
Universidad Central de Venezuela, Centro de Investigaciones Postdoctorales (CIPOST)
Abstract
El presente artículo documenta en fuentes primarias la existencia de varias sedes teatrales que surgieron y mantuvieron cierta actividad en Venezuela durante el decenio de dominio político los hermanos José Tadeo y José Gregorio Monagas. Se precisa así la presencia de un teatro en Valencia, otro en Maracaibo y otro en La Guaira, asó como la de cuatro teatros en Caracas. Entre todos ellos, el más importante y mejor dotado es el llamado Teatro de Caracas, inaugurado el 22 de octubre de 1854. [ABSTRACT]This paper highlights in primary sources the existence of a certain number of theaters that arose and sustained some activities in Venezuela during the decade of political dominion by the brothers José Tadeo and José Gregorio Monagas. We heve thus documented the existence of a theater in Valencia, another one in Maracaibo, a third one in La Guaira, und further four more theaters in Caracas. The most important and the better equipeded of them was the so call "Theater of Caracas", inaugurated on october the 22th, 1854.
Description
Por error del diseñador gráfico, las dos primeras notas del texto corresponden a otra autora. En realidad, el aquí publicado es un texto inédito, que no forma parte de ninguna tesis doctoral, y su autor es José María Salvador González, cuya profesión e identidad queda así indicada: "Doctor en Estética y Ciencias del Arte, Université Panthéon-Sorbonne (Paris I, Doctor en Ciencias Sociales, Universidad Central de Venezuela,Doctor en Historia del Arte, Universidad Complutense de Madrid jmsalvad@ghis.ucm.es; jmsalvadorg@cantv.net "
Collections