Publication:
Implementation Intentions: A Look Back at Fifteen Years of Progress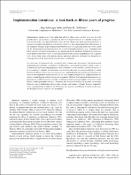 Files
Advisors (or tutors)
Editors
Publisher
Colegio Oficial de Psicólogos del Principado de Asturias
Abstract
Implementation intentions are if-then plans that spell out when, where, and how a set goal has to be put into action: «If situation x is encountered, then I will perform behavior y!», thereby linking a critical situation with a goal-directed behavior. Over the last fifteen years, implementation intentions, as compared to simple goal intentions («I intend to reach z!»), have demonstrated their effectiveness as self-regulation strategies in promoting desired behaviors or when unpleasant actions have to be carried out. By forming implementation intentions, the control of unwanted influences (e.g., temptations, bad habits, adverse self-states) on an ongoing goal pursuit can also be facilitated. Furthermore, implementation intentions have been shown to ease goal-directed actions in critical populations such as patients with a frontal brain lesion, schizophrenic patients, and opiate addicts in withdrawal, for whom the initiation problems of the goaldirected action are more accentuated.
Las intenciones de implementación son planes «si-entonces» («if-then plans») que especifican cuándo, dónde y cómo se va a llevar a la acción una meta propuesta: «(Si me encuentro con la situación x, entonces llevaré a cabo la conducta y!», ligando de esta manera una situación crítica con una conducta dirigida a la meta. Durante los últimos quince años, las intenciones de implementación han resultado ser estrategias eficaces de autorregulación, en comparación con las metas simples, para promover comportamientos deseados o cuando hay que realizar acciones no placenteras. Mediante la formación de intenciones de implementación también se pueden controlar las influencias indeseadas (por ejemplo, tentaciones, malos hábitos, estados personales adversos). Asimismo, han demostrado facilitar las acciones encaminadas hacia una meta en poblaciones críticas, como pacientes con lesiones cerebrales frontales, esquizofrénicos, y pacientes bajo el síndrome de abstinencia, para quienes los problemas de iniciación de acciones dirigidas hacia una meta son más acentuados.
Collections