Publication:
Homosexualidad latente en el cine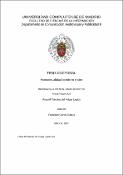 Advisors (or tutors)
Editors
Publisher
Universidad Complutense de Madrid
Abstract
Desde el principio del siglo XX en los Estados Unidos y Europa, las personas vivían su homosexualidad a escondidas por temor a las leyes que la castigaban; el cine pues, les representa del mismo modo creando una subcultura en la que pueden ser ellos mismos. La cinematografía clásica y los años posteriores se componen de numerosos filmes cargados de representaciones homosexuales de manera oculta. Interpretados desde una lectura queer, conoceremos las mil maneras de sugerir a los gais y a las lesbianas en la gran pantalla, descubriendo así la verdadera condición sexual de muchos personajes. La modalidad latente sugiere la homosexualidad sin llegar a expresarla explícitamente. Los filmes se producían y leían en clave heterosexual, pero a lo largo de todo el largometraje hay un subtexto homosexual. Destaca la habilidad magistral del uso de ciertos diálogos para referirse a las relaciones homosexuales; las representaciones de las mismas por medio de objetos , así como el empleo de una fotografía o planos adecuados, la música, el vestuario y al comunicación no verbal de los propios personajes, como claves importantes a la hora de descifrar a un gay o una lesbiana. Los enunciados homosexuales tenían que ser claros pero lo suficientemente cuidados para no levantar la sospecha de los censores que, en ocasiones, omitían tantas escenas de películas que las hacían carentes de un discurso narrativo lógico. A lo largo de la historia del cine los gais y lesbianas son representados por diversos estereotipos que se corresponden con las diferentes épocas. En las primeras películas comerciales, en la década de los diez y los veinte, es común el personaje gay conocido como sissy o mariquita. Eran motivo de burla en el cine mudo y adornaron las comedias americanas de los años cincuenta...
From the beginning of the XX century in the United States and Europe people lived their homosexuality hideen for fear of the laws that punished it. The cinema represents them in the same way by creating a subculture where homosexuals can be themselves. Classical cinematography and beyond are composed of numerous films loaded with homosexual representations hidden. Interpreted from a 'queer' reading we know the thousand ways of suggesting gays and lesbians on the big screen, exposing the true sexual condition of many characters. Latent homosexuality suggests mode without explicitly express it. The films were produced and read in straight key but throughout the film there is a homosexual subtext. It highlights the masterful ability to use certain dialogues to refer to homosexual relations; the representation of them through objects and the use of a photograph or suitable shot, music, costumes and nonverbal communication of the characters themselves, as important keys to deciphering a gay or lesbian. Gay statements had to be clear enough but care enough to avoid arousing the suspicion of the censors whonsometimes omitted so many movie scenes that were lacking a logical narrative. Throughout film history gays and lesbians are represented by various stereotypes that correspond to different times. In the first commercial films in the decade of the 10s and 20s it is common the character known as gay or 'sissy'. They were mocked in silent films and adorned the American comedies of the 50s. Similarly, they began to emerge lesbians in film in black and white as hosenrollen or "women in trousers", where a woman dressed as a man created confusion among females who fell in love without knowing who she really was...
Description
Tesis inédita de la Universidad Complutense de Madrid, Facultad de Ciencias de la Información, Departamento de Comunicación Audiovisual y Publicidad II, leída el 18-12-2015
Collections