Publication:
Procesos creativos en entornos musicales inmersivos: un estudio de caso a través del análisis de metaversos. La Avatar Orchestra Metaverse en Second Life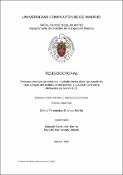 Authors
Advisors (or tutors)
Editors
Publisher
Universidad Complutense de Madrid
Abstract
La virtualidad se presenta como un espacio de creación y expansión de la realidad física. La percepción y la relación de los procesos creativos que giran en torno a lo virtual en lo referente a la música, la performance y la experimentación rigen e interaccionan nuestras realidades físicas, aún estando offline. Dichos procesos creativos son estudiados en la Orquesta virtual Avatar Orchestra Metaverse. Hemos navegado a través de la realidad creada por la Orquesta en el ciberespacio, bajo una metodología de estudio de caso -al que hemos llamado cybercase-, asistiendo y participando durante un tiempo en sus ensayos, junto a una posterior actuación. A través de un enfoque interdisciplinar basado en un proceso de análisis de material audiovisual y textual mediado por la presencia, entendida desde lo físico y lo virtual, exponemos los procesos creativos encontrados que subyacen bajo los miembros de la Orquesta, de modo descriptivo, y mediante el empleo de la teoría fundamentada. Como marco teórico mostramos los conceptos de música, espacio, tiempo y los procesos de comunicación gestados por la máquina y la virtualidad, todo ello mediado desde la percepción del ambiente y el interaccionismo simbólico. Presentamos dentro de este marco una revisión teórica del concepto de la creatividad enfocado desde la mecánica cuántica...
Virtuality is presented as a space for creation and expansion of physical reality. The perception and relationship of creative processes such as music, performance or experimentation within the virtual environment interact with and govern our physical realities, even when offline. These creative processes are studied in the virtual orchestra Avatar Orchestra Metaverse. We navigated through the reality created by the orchestra in cyberspace with a case-study that we named "cybercase", attending and participating in their rehearsals and a live performance. We have applied a mixed approach based on analysis of audiovisual and textual material collected during our presence in the sessions, from the physical and virtual point of view, we present the creative processes shown by the members of the orchestra in a descriptive way as well as applying grounded theory. As a theoretical framework we show the concepts of music, space, time and the communication processes generated around virtual reality, all of it mediated from the perception of the environment and symbolic interactionism. We present within this framework a theoretical review of the concept of creativity focused on quantum mechanics. The study is completed with interviews with two experts in the field of study; Roy Ascott, a pioneer in the field of technoethics, cybernetics and telematics; and Tom Boellstorff, a pioneer in the field of virtual ethnography...
Description
Tesis inédita de la Universidad Complutense de Madrid, Facultad de Bellas Artes, Departamento de Didáctica de la Expresión Plástica, leída el 28 de octubre 2015 ; presidente, Francisco García García
Collections