Publication:
El desencanto de lo comunitario. Tres modos de danza en Nietzsche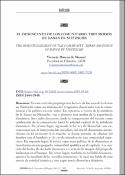 Authors
Advisors (or tutors)
Editors
Abstract
En este artículo propongo una lectura de los usos de la danza en Nietzsche como un síntoma del progresivo desencanto con lo comu- nitario y lo político en este autor. En concreto, a través de la metáfora de la danza en Nietzsche, voy a plantear tres modos de la experiencia dionisíaca, los cuales discurren desde la comprensión del éxtasis como celebración de lo comunitario hasta la soledad radical de la sabiduría dionisíaca. En primer lugar, siguiendo le lectura de Sloterdijk, nos en- contramos con la interpretación socialista del inicial dionisismo nietzs- cheano en El nacimiento de la tragedia: la danza permite «la alianza del hombre con el hombre» y «lo revela miembro de una comunidad supe- rior». En segundo lugar, la inicial esperanza política de lo dionisíaco se transforma en una pequeña comunidad apolítica en el capítulo «La can- ción del baile» de Así habló Zaratustra a través de la imagen del grupo de bailarinas en el bosque. En tercer lugar, también en Así habló Zaratustra, aparece la metáfora de la «estrella danzarina», la cual nos habla de una suerte de soledad cósmica y una experiencia dionisíaca disidente.
In this article I propose a reading of Nietzsche's uses of dance as a symptom of his progressive disenchantment with politics and the community. Concretely, by making use of Nietzsche's metaphor of dance, I am going to propose three ways of the Dionysian experience in this author, which run from the comprehension of ecstasy as a communal experience to a radical solitude. Firstly, following Sloterdijk's reading, we find a socialist interpretation of Nietzsche's initial Dionysism in Die Geburt der Tragödie: dance allows the alliance among men and manages a «superior community». Secondly, we find in Also sprach Zarathustra that the Dionysian experience turns into a small communal apolitical experience. I am referring to the chapter «Das Tanzlied» of Also sprach Zarathustra, where there is a small group of female dancers in the forest. Finally, we also find a second dance metaphor in Also sprach Zarathustra: der tanzende Stern. It expresses a cosmic solitude and a dissident Dionysian experience.
Collections