Publication:
Approximation of functions and their derivatives by analytic maps on certain Banach spaces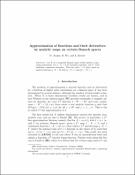 Advisors (or tutors)
Editors
Abstract
Let X be a separable Banach space that admits a separating polynomial; in particular, let X be a separable Hilbert space. Let f : X -> R be bounded and Lipschitz, with uniformly continuous derivative. Then, for each epsilon > 0, there exists an analytic function g : X -> R with vertical bar g - f vertical bar < epsilon and parallel to g' - f'parallel to < epsilon.
Collections