Publication:
Proyecto enlace: Enlace con la práctica educativa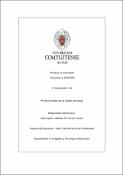 Advisors (or tutors)
Editors
Abstract
El Proyecto enlace pretende suplir la falta de prácticas en en centros educativos de los estudiantes de primer curso, gracias a los estudiantes-enlace, estudiantes de cursos superiores en prácticas. La interacción entre los estudiantes y sus estudiantes enlace facilita el contraste teoría-práctica, tan necesario en un proceso formativo basado en competencias.
Link Project connects first year students, with no access to a school, with students of upper grades during their stage at the school (link-students). This interaction enhances practice-theory contrast, required for a professional training based on competencies.