Publication:
Mechanism of immunoregulatory properties of vasoactive intestinal peptide in the K/BxN mice model of autoimmune arthritis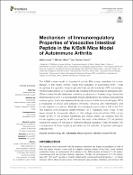 Advisors (or tutors)
Editors
Abstract
The K/BxN mouse model of rheumatoid arthritis (RA) closely resembles the human disease. In this model, arthritis results from activation of autoreactive KRN T cells recognizing the glycolytic enzyme glucose-6-phosphate isomerase (GPI) autoantigen, which provides help to GPI-specific B cells, resulting in the production of pathogenic antiGPI antibodies that ultimately leads to arthritis symptoms from 4 weeks of age. Vasoactive intestinal peptide (VIP) is a neuropeptide broadly distributed in the central and peripheral nervous system that is also expressed in lymphocytes and other immune cell types. VIP is a modulator of innate and adaptive immunity, showing anti-inflammatory and immunoregulatory properties. Basically, this neuropeptide promotes a shift in the Th1/ Th2 balance and enhances dedifferentiation of T regulatory cells (Treg). It has demonstrated its therapeutic effects on the collagen-induced arthritis (CIA) mouse model of RA. In the present hypothesis and theory article, we propose that the immunoregulatory properties of VIP may be due likely to the inhibition of T cell plasticity toward non-classic Th1 cells and an enhanced follicular regulatory T cells (Tfr) activity. The consequences of these regulatory properties are the reduction of systemic pathogenic antibody titers.
Collections