Publication:
Primeras mujeres aviadoras: una construcción cultural entre la exclusión y la ambigüedad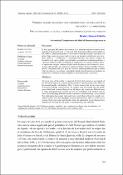 Authors
Advisors (or tutors)
Editors
Publisher
Universidad Autónoma de Barcelona
Abstract
El tema principal del artículo es presentar a las primeras mujeres aviadoras como ejemplo de la interpretación y valoración de la dicotomía tradición/modernidad en los modelos culturales de género. El texto tiene varias aportaciones específicas. En primer lugar, pone en escena mujeres que en su momento significaron una novedosa forma de visibilización y creatividad femenina, una manera original de irrupción en el espacio público que obligaba a reconsiderar ideologías pretéritas y a generar distintos modos de valorarlas y significarlas. En segundo término, el texto aporta otra vía para constatar la relación de las mujeres con la ciencia y la tecnología, demostrando que ésta tiene raíces profundas y formas variadas y heterogéneas. Finalmente, este caso pone de relieve la instrumentalización que se realiza sobre las mujeres, sus saberes y actividades desde el poder patriarcal mediante su transmisión a través de caminos específicos de comunicación y autoridad.
The main topic of the article is to present the frst pilot women as an example of the dichotomy betwoeen tradition and modernity in cultural gender roles. This text has several specific contributions. First, it shows women that meant a new shape of feminine visibility and creativity. An original way of entering into the public space that forced to reconsider previous ideologies and to generate diferent ways to value and signify them. Second, the text also contributes with another route to show the relationship between women, and science and technology. It proves that this relationship has deeper roots and more varied shapes than it is usually considered. Lastly, this case highlights the instrumentalization that is carried out on women, their knowledge and activities from the patriarchal power through their transmission through specifc paths of communication and authority.
Collections