Publication:
Conformidad con el rol de género femenino, orientación sexual y salud mental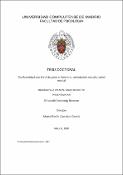 Files
Authors
Advisors (or tutors)
Editors
Publisher
Universidad Complutense de Madrid
Abstract
El objetivo de este estudio es conocer los Patrones de conformidad con el rol de género femenino, saber si éstos guardan relación con la Orientación sexual, y conocer si ambas variables de manera conjunta o separada, están a su vez relacionadas con la Salud Mental de las mujeres. Se confirma la hipótesis 1.1. Existen cuatro Patrones de conformidad con el rol de género femenino; 1. El Perfil Apariencia-Delgadez representa a una mujer que se muestra en general conforme con todas las normas de género femeninas, especialmente con el cuidado de la Apariencia física y con la Delgadez. Se trata de un patrón que aparece con bastante frecuencia en esta población muestral (32,93%). 2. El Perfil Tradicional está formado por el otro grupo de mujeres que presenta también alta conformidad con el rol femenino, pero en este caso, lo hace sobre todo con las subescalas Fidelidad sexual, Romántica, Doméstica y Modestia. Su frecuencia es la más baja en este estudio (13,41%). 3. El Perfil No Conforme está caracterizado por mujeres que muestran baja conformidad con todas las normas excepto con Modestia, subescala en la que obtienen valores ligeramente por encima de la media. Es el patrón que con mayor frecuencia aparece en esta investigación (39,2%). 4. El Perfil Asistemático se compone de mujeres que presentan alta conformidad en Agradable en las relaciones, Cuidado de niños/as, Apariencia física y Doméstica; muy baja conformidad en Modestia, Delgadez y Fidelidad sexual; y conformidad moderada en Romanticismo. Este patrón no se encuentra con mucha frecuencia en la muestra (14,46%)...
The purpose of this investigation is to identify the patterns of conformity to feminine gender norms, to find out if they are related or not to sexual orientation, and to examine if both variables jointly or separately, are in turn related to mental health outcomes in women. Research Question 1. Hypothesis1.1. is been confirmed. There are four patterns of conformity to feminine gender norms; 1. Appearance-Thinness Pattern represents a woman with endorsement of all the feminine gender norms, especially strength of Invest in Appearance and Thinness. It is a pattern that appears quite frequently in this sample population (32.93%). 2. Traditional Pattern is composed by another group of women who also show high conformity to the feminine roles, but in this case, the strength of endorsement is mainly of subscales Sexual Fidelity, Romantic Relationship, Domestic and Modesty. It́s frequency is the lowest in this study (13.41%). 3. Non-conforming Pattern is characterized by women showing low compliance with all gender norms excepting Modesty; in this subscale values get slightly above average. This profile appears most frequently in this research (39.2%). 4. Asystematic Profile is composed of a sample of women who show high endorsement of Nice in Relationships, Care os Children, Invest in Appearance and Domestic; very low conformity in Modesty, Thinness and Sexual Fidelity; and moderate conformity in Romantic Relationships. This pattern is not found very frequently in the sample (14.46%)...
Description
Tesis inédita de la Universidad Complutense de Madrid, Facultad de Psicología, leída el 07-09-2017
Collections