Publication:
GEDOLI : gestión de documentos lingüísticos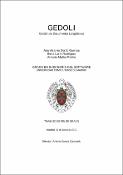 Advisors (or tutors)
Editors
Abstract
El repositorio GEDOLI (Gestión de Documentos Lingüísticos), es una aplicación Web cuyo principal objetivo es facilitar el acceso a distintos materiales, según una clasificación y organización taxonómica. Este repositorio tiene como ventaja que son los propios usuarios registrados y activos, los encargados de mantener, actualizar y controlar los contenidos clasificados. Se ha creado una aplicación fácil de usar y que gestiona de manera adecuada un repositorio digital.
The GEDOLI (Linguistic Document Management) repository is a web application whose main purpose is to facilitate access to different materials, according to a taxonomic classification and organization. This repository has the advantage that active users are able to maintain, update and manage the classified content. It has created an easy-to-use application, which properly manages a digital repository.
Description
Trabajo de Fin de Grado en Ingeniería del Software (Universidad Complutense, Facultad de Informática, curso 2012/2013)