Publication:
La entrevista radiofónica como género informativo en la comunicación. Su presencia programática en las cuatro principales emisoras de radio de nuestro país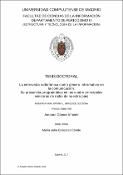 Files
Authors
Advisors (or tutors)
Editors
Publisher
Universidad Complutense de Madrid
Abstract
La entrevista se encuentra presente como hilo conductor en la mayoría de los programas radiofónicos. Se trata de un género apasionante, por el hecho de que nos pone en comunicación con otra persona, que suscita un cierto interés personal y/o profesional. Como estudiosa de la radio, se ha observado que la entrevista ocupa un lugar importante en la programación radiofónica, como género para entender los acontecimientos desde la perspectiva de los protagonistas de los hechos. En esta investigación, partimos de que la entrevista es un género periodístico, pero también una herramienta con la que cuenta el profesional periodista, que le habilita y le da autoridad para dirigirse al personaje entrevistado. La presente tesis que lleva por título La Entrevista Radiofónica como género informativo en la comunicación. Su presencia programática en las cuatro principales emisoras de nuestro país, se centra en analizar la entrevista en el medio radio, por la riqueza de matices y significados de la palabra sonora y también en sus pausas o silencios...
It is widely recognised that the interview provides a basis for research in radio programmes. It is considered as an exciting genre because it allows us to communicate with people, who cause at certain personal or professional interest. As an university student of the radio, we have realised that the interview takes up an important amount of time in radio programmes, which is assessed in order to understand the most important informative events in accordance with the event́s protagonists. In this research, our starting point is to analyse the radio interview as a journalistic genre, but we must not forget that it is a powerful instrument for journalists, who get the recognition to address the interviewee. The present project is titled, The Radio Interview as an Informative Genre in Communication. Its Programme Presence in the Main important Four Radio Stations of our Country and is focused on analysing the radio interview, due to different shades of meanings, not only for the voiced word, but also silences or pauses...
Description
Tesis inédita de la Universidad Complutense de Madrid, Facultad de Ciencias de la Información, Departamento de Periodismo II (Estructura y Tecnología de la Información), leída el 07/10/2016
Collections