Publication:
Congreso de Innovación Docente en Clásicas en la Comunidad de Madrid (II): la selección de textos para el aula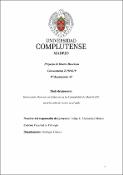 Authors
Hernández Muñoz, Felipe G.
Hernández de la Fuente, David Alejandro
Coello Amor, Maria Del Pilar
Jiménez López, María Dolores
Mariño Sánchez-Elvira, Rosa
Advisors (or tutors)
Abstract
Memoria del congreso celebrado en enero de 2019, continuación de otro anterior. Las actas se subirán próximamente al Repositorio. Las del congreso anterior pueden consultarse en eprints.ucm.es/46107.
Memory of the congress held in January 2019, continuation of a previous one. The Proceedings will soon be uploaded to the Repository. Those of the previous congress can be consulted at eprints.ucm.es/46107.
Citation
La memoria irá acompañada del volumen de Actas del Congreso