Publication:
Introducción al ReptTest y a la técnica de la rejilla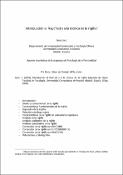 Authors
Advisors (or tutors)
Editors
Abstract
El trabajo incluye los apuntes de clase de la asignatura Psicología de la Personalidad de la Licenciatura/Grado en Psicología de la Universidad Complutense de Madrid. En dichos apuntes, se describe el Test del Repertorio de Constructos de Roles de George Kelly y su versión más popular, el RepGrid, que, en España, se conoce como técnica de la rejilla, y que, aunque se puede utilizar desde otros enfoques y modelos teóricos de la personalidad, está basado en su teoría de los constructos personales. Los apuntes también recogen los siguientes aspectos: a) diseño y componentes de la rejilla; b) características fundamentales de la rejilla; c) supuestos de la rejilla; d) relación psicólogo-sujeto en la rejilla; e) características de la rejilla en poblaciones especiales; f) análisis cualitativo de la rejilla; g) análisis cuantitativo de la rejilla; h) corrección de la rejilla con RECORD; i) corrección de la rejilla con CIRCUMGRIDS, y j) corrección de la rejilla con IBM SPSS.
The paper includes the class notes of the subject entitled Psychology of the Personality of the Licenciate Degree/Bachelor Degree in Psychology of the Complutense University of Madrid. In these notes, it is described the Role Construct Repertory Test of George Kelly and its most popular version, the RepGrid, which, in Spain, is known as the grid technique. Although this technique can be used from other approaches and models of personality, it is based on Kelly's theory of personal constructs. The paper also includes the following aspects: a) grid design and components; b) fundamental characteristics of the grid; c) grid assumptions; d) psychologist-subject relationship in the grid; e) characteristics of the grid in special populations; f) qualitative grid analysis; g) quantitative grid analysis; h) grid correction with RECORD; i) grid correction with CIRCUMGRIDS, and j) grid correction with IBM SPSS.
Description
Versión actualizada de los apuntes originalmente elaborados en 1999.