Publication:
La colección de vaciados de escultura que Antonio Rafael Mengs donó a Carlos III para la Real Academia de Bellas Artes de San Fernando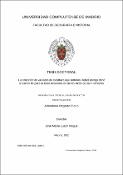 Authors
Advisors (or tutors)
Editors
Publisher
Servicio de Publicaciones, Universidad Complutense de Madrid.
Abstract
Antonio Rafael Mengs, primer Pintor de Cámara de Carlos III, donó al rey la extensa colección de vaciados de escultura, que había ido formando a lo largo de los años en Madrid, Roma y Florencia. La Academia de Bellas Artes de San Fernando, creada poco tiempo antes, necesitaba proveerse de modelos en yeso que sirvieran como pauta y fuente de inspiración a los artistas españoles. El repertorio de moldes y modelos de Mengs llegó a España en un momento decisivo para el desarrollo del arte en nuestro país, convirtiéndose en uno de los vehículos imprescindibles para la educación de los artistas y el establecimiento del gusto neoclásico, que estaba triunfando ya en muchos lugares de Europa y del que el pintor alemán era uno de sus teóricos más sobresalientes. Según Mengs, y compartiendo las ideas estéticas de Winckelmann, sólo había un procedimiento válido para alcanzar la perfección artística, éste era la contemplación e imitación del arte de los antiguos, los cuáles habían sabido seleccionar, las partes más perfectas de la naturaleza y reunirlas en sus composiciones. Los vaciados de las más célebres estatuas de la Antigüedad, en detrimento de los originales, compendiaban todo el saber necesario para los discípulos de la Academia. El objetivo del presente trabajo ha sido el estudio completo, es decir el análisis material, así como el de la génesis, historia, donación, traslado a Madrid y fortuna de la colección, y la determinación de las diversas procedencias de los yesos y los contactos que el artista estableció para la consecución de éstos. Como resultado se ha reconstruido e identificado la totalidad de la colección y aquí se ofrece un catálogo exhaustivo de las piezas que la componen, además de una serie de capítulos monográficos dedicados a algunas obras de particular importancia y repercusión. [ABSTRACT]Anton Rafael Mengs, Court Painter of King Charles IIIrd., gifted the King the extensive plaster-cast collection that he had created throughout the years in Madrid, Rome and Florence. The Royal Academy of Arts of San Fernando, created short time before this, was in need of plaster-cast models that served as reference and inspiration for the Spanish artists. The repertoire of moulds and models belonging to Mengs arrived to Spain in a decisive moment for the develop of arts in our country. They played a major role for the apprenticeship of artists and became the main vehicle of transmission to establish the neo-classical taste that was achieving a great success in many places around Europe and for which the German painter was one of his most eminent theorist. Attending to Mengs, who shared the same aesthetic ideas as Winckelmann, there was only one possible way to achieve the perfection on arts. It was through the contemplation and imitation of the ancient art as the ancients knew how to make a selection of the most perfect parts. Casts of the most celebrated statues of the Antiquity, to the detriment of the originals, could summarize all the knowledge necessary for the young artists at the Royal Academy. The object of this work has been to achieve a complete study , that is to say a material analysis, creation, history, donation, dispatch to Madrid and fortune of the collection as well as to determine de different provenances of the pieces and the contacts the artist made to obtain them. As a result it has been possible to reconstruct and identify the whole collection, providing with a complete catalogue of all the pieces. Together with a number of monographic chapters devoted to specific sculptures when their importance and consequence required it.
Description
Tesis de la Universidad Complutense de Madrid, Facultad de Geografía e Historia, leída el 23/02/2009
Collections