Publication:
El impulso utópico en el pensamiento de Fredric Jameson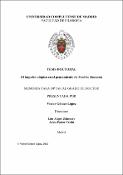 Files
Authors
Advisors (or tutors)
Editors
Publisher
Universidad Complutense de Madrid
Abstract
El proyecto dialéctico de Jameson afronta el doble fracaso de la representación en nuestra época postmoderna, en la que los sujetos no pueden representarse el presente ni imaginar la sociedad del futuro utópico. La aportación que pretende realizar este trabajo consiste en el tratamiento sistemático de los tres métodos de interpretación del impulso utópico propuestos por Jameson, así como de la articulación que realiza de estos métodos en «documentos culturales» hegemónicos en nuestra época postmoderna, siempre con vistas a que se realice el objetivo interpretativo del norteamericano: politizar la conciencia del lector. Para ilustrar el contenido de las categorías utópicas, las compararemos con los términos que las contradicen o niegan: la sociedad del espectáculo de Debord, el psicoanálisis lacaniano, el concepto de «multitud» del operaísmo italiano y la lógica del «espacio basura» teorizada por Koolhaas. Siguiendo a Jameson, nos preguntaremos también cómo los textos hegemónicos en el capitalismo tardío –como las ficciones apocalípticas– pueden expresar el impulso utópico...
Jameson's dialectical project tackles representation's two fold failure inour postmodern age, in which subjects cannot represent the present or imagine the society of the utopian future. The contribution that this work aims to make entails the systematic addressing of the three methods of interpretation of the utopian impulse proposed by Jameson, as well as their articulation in hegemonic «cultural documents» of our postmodern era, in order to achieve the interpretive objective of the North American: politicize the consciousness of readers. To illustrate the content of utopian categories, we will compare them with terms that go against or deny them: Debord's society of the spectacle, Lacanian psychoanalysis, Italian workerist concept of «multitude» and the logic of «Junkspace» theorized by Koolhaas. Following Jameson's lead, we will also assess how hegemonic texts –namely apocalyptic fictions– express such utopian impulse in late capitalism.
Description
Tesis inédita de la Universidad Complutense de Madrid, Facultad de Filosofía, leída el 18-01-2022
Collections