Publication:
Magia y teúrgia al encuentro de los dioses: Comentario a tres prácticas de "systasis" de los "Papiros Griegos Mágicos"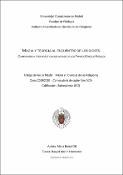 Authors
Advisors (or tutors)
Editors
Abstract
El presente trabajo tiene como objetivo investigar el posible carácter teúrgico de tres prácticas de "systasis" del corpus de "Papiros Griegos Mágicos", en concreto las pertenecientes a los papiros del conocido como "archivo de Hermontis". Para ello, en primer lugar, estudiaremos la historia de este corpus y contextualizaremos las prácticas mágicas en el marco del Egipto tardoantiguo. En segundo lugar, expondremos el papel de la "systasis" (encuentro o reunión) con la divinidad en el sistema filosófico-ritual de la teúrgia neoplatónica. Una vez establecido este marco, pasaremos a comentar los textos de las tres recetas escogidas. Por último, trataremos de extraer algunas conclusiones en torno a la relación entre las prácticas mágicas y las teúrgicas en base a este análisis.
The aim of this work is to study the possible theurgical character of three "systasis" practices of the corpus of "Greek Magical Papyri", specifically those belonging to the papyri of the so-called "Hermothis archive". To this end, we will first study the corpus' history and we will contextualize magical practices within the framework of late-ancient Egypt. Secondly, we will expose the role of "systasis" (encounter or meeting) with the divinity within the philosophical-ritual system of neoplatonic theurgy. Once this framework is established, we will comment on the texts of the three chosen recipes. Finally, we will try to draw some conclusions about the relationship between magical and theurgic practices based on this analysis.