Publication:
Generalized quantum Vlasov equation for particle creation and unitary dynamics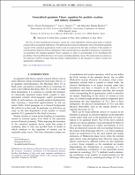 Advisors (or tutors)
Editors
Abstract
The loss of time-translational invariance caused by a time-dependent external agent leads to particle creation effects in quantum field theory. This phenomenon results in ambiguities when selecting the quantum vacuum of the canonical quantization. In this work we analyze how the time evolution of the number of created particles depends on these ambiguities when external agents are spatially homogeneous. In particular, we generalize the standard quantum Vlasov equation in order to accommodate in its formulation the possibility of having different choices of vacuum, including adiabatic vacua. This study leads us to propose a new physical criterion stronger than the unitary implementation of the dynamics in order to reduce the quantization ambiguities.
Description
© 2022 American Physical Society. This work has been supported by Project. No. MICINN PID2020 - 118159GB-C44 from Spain. A. A. D. acknowl-edges financial support from Universidad Complutense de Madrid through the predoctoral Grant No. CT82- 20.
Collections