Publication:
Ni víctimas, ni victimarias. Análisis de las narrativas de género en torno al conflicto y postconflicto armado en Colombia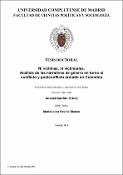 Files
Authors
Advisors (or tutors)
Revilla Blanco, María Luisa
Editors
Publisher
Universidad Complutense de Madrid
Abstract
El sistema de dominación masculina se acentúa y refuerza en los contextos de violencia, configurándose la guerra como un espacio masculino. El fomento de la militarización en la construcción sobre la masculinidad y los privilegios asociada a ella, refuerza el sistema sexo-género, donde la construcción de los roles de género condiciona la participación de las mujeres en la guerra. En este sentido, es relevante someter a estudio las dinámicas sociales desde la posición de género que se han observado en los conflictos armados: 1) la exclusión de las mujeres del campo de batalla; 2) la construcción social de los roles de género; y 3) la violencia derivada del conflicto armado en el cuerpo de las mujeres.Estas tres dinámicas responden a la construcción sexuada de los roles de género, que condicionan la participación de hombres y mujeres en la guerra. Como parte del proceso social estas dinámicas son producidas y reproducidas por el sistema y por el sujeto, mediando entre la ideología hegemónica, así como, a través de la sujeción a la norma. No obstante, los roles de género se evidencian como ficticios al observar las diversas posiciones que ocupan las mujeres en los escenarios de conflicto armado. Por tanto, la reificación de las mujeres como víctimas en los conflictos armados, impide mostrar procesos identitarios distintos de la mujer como víctima: mujeres guerrilleras o mujeres activistas...
The system of masculine domination is accentuated and strengthened in contexts of violence, configuring war as a masculine space. The promotion of militarization in the construction of masculinity and the privileges associated with it reinforces the sex-gender system, where the construction of gender roles conditions the participation of women in war. In this sense, it is relevant to study the social dynamics from a position of gender as observed in armed conflicts: 1) the exclusion of women from the battlefield; 2) the social construction of gender roles; and 3) violence resulting from armed conflict in women's bodies.These three dynamics respond to the gendered construction of gender roles, which condition the participation of men and women in war. As part of the social process these dynamics are produced and reproduced by the system and the subject, mediating between the ideological hegemony, as well as through subjection to the norm. However, gender roles are evidenced as fictitious by observing the different positions that women occupy in armed conflict scenarios. Therefore, the reification of women as victims in armed conflicts makes it impossible to show identity processes that are distinct from women as victims: guerrilla women or women activists...
Description
Tesis de la Universidad Complutense de Madrid, Facultad de Ciencias Políticas y Sociología, leída el 14/12/2017