Publication:
Situación laboral de los titulados de la UCM: examen desde la perspectiva del género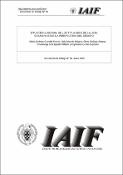 Advisors (or tutors)
Editors
Publisher
Instituto de Análisis Industrial y Financiero, Universidad Complutense de Madrid
Abstract
El fuerte incremento que ha experimentado la matrícula en los centros universitarios, a partir del último tercio del siglo pasado, se ha debido en gran parte a la creciente incorporación de las mujeres a los estudios universitarios, por eso es interesante el conocimiento de las principales facetas del proceso de transición de las egresadas en comparación con sus homónimos varones al mercado de trabajo así como de la consolidación de las posiciones laborales de las mismas una vez que llevan seis años ejerciendo su actividad laboral. En las páginas que siguen, se analiza desde la perspectiva de género, el grado de éxito de los graduados en el acceso a un empleo, el tiempo necesitado para encontrarlo, el estatus laboral, la remuneración y, entre otros factores, la estabilidad en el empleo. Este documento está enmarcado en el contexto de una investigación más amplia cuyo propósito es el estudio del proceso de transición al mercado laboral de los egresados de las 18 principales titulaciones de la UCM, así como su desarrollo profesional en orden a determinar con mayor precisión las variables más relevantes que expliquen la posible sobrecualificación y las características laborales en su actividad profesional. Abstract The great increase in university matriculations over the last third of the past century is due in great part to the increasing incorporation of women to university studies; therefore, recognizing the main facets of the transition process of the women graduates, in comparison with their male counterparts, in their incorporation to the labour market, as well as the consolidation of their labour positions after six years of labour activities, is very interesting. In the next pages, the graduate's degree of success in their access to employment, time employed to find it, labour status, remuneration and, amongst other factors, labour stability are analysed from the gender viewpoint. This document is framed in the context of a broader investigation, whose purpose is studying the transition process to the labour market of graduates from the 18 main degrees of the UCM, as well as their professional development, to determine more accurately the most relevant variables that explain the possible overeducation and labour characteristics in their professional activity.
Citation
- ANECA (2004): Encuesta de Inserción Laboral, Agencia Nacional de Evaluación de la Calidad y Acreditación, Madrid. - ANECA (2007): El profesional flexible en la Sociedad del Conocimiento, Reflex – Informe ejecutivo, Unidad de Estudios de la Agencia Nacional de Evaluación de la Calidad y Acreditación, Madrid. - Albert, C. et al. (2007): Los estudios de inserción laboral de los titulados universitarios. El caso de los titulados en Economía y ADE de la Universidad de Alcalá, comunicación presentada en el Seminario de Economía Laboral de la Universidad de las Palmas de Gran Canaria. - CES (2009): Sistema Educativo y Capital Humano, Informe del Consejo Económico y Social, Madrid, mimeo. - Dolado, J.J., et al. (2000): "La inserción laboral de los titulados universitarios en España", Papeles de Economía Española, 66, pág. 78-98. - EURYDICE (2005): Key Data on Education in Europe 2005, European Commission. - Freeman, Richard B. (1976): The Overeducated American, New York, Academic Press. - García-Montalvo, J., et al. (2003): Capital Humano, Observatorio de la Inserción Laboral de los Jóvenes: 1996-2002, Bancaja, Valencia. - González, Julia y Robert Wagenaar (2003): Tuning Educational Structures in Europe, Universidad de Deusto y Universidad de Groningen. - IVIE (2002): "El ajuste entre la formación y el empleo de los graduados de enseñanza universitaria", en Capital Humano, núm. 22, editado por Bancaja. - OECD (2008): Education at a Glance: OECD Indicators – 2008 Edition, Organización para la Cooperación y el Desarrollo Económico, París. - Reichert, Sybille y Christian Tauch (2005): Tendencias IV: Universidades Europeas. Puesta en práctica de Bolonia, Informe de la European University Association, traducido al español por Alejandro Alcaraz por encargo de la CRUE. - UCM (2007): Estudios de Inserción Laboral, Escuela Universitaria de Estadística y Consejo Social de la Universidad Complutense de Madrid, mimeo. - Vidal, J. (coord.) (2003): Métodos de análisis de la inserción laboral de los universitarios. Consejo de Coordinación Universitaria y Universidad de León.