Publication:
Análisis de los valores en dos videojuegos de Quantic Dream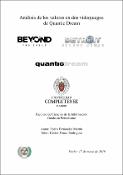 Authors
Advisors (or tutors)
Editors
Abstract
La industria de los videojuegos es una de las mayores a nivel mundial en torno al entretenimiento y la comunicación. Dentro de ella es posible alterar la forma de comunicar, ya que existe la opción de hacer vivir al usuario una historia en primera persona. Por ello cabe destacar la importancia de identificar y analizar qué valores se muestran y cómo se logra llevar a cabo esta experiencia de juego y a la vez de comunicación. Con los juegos 'Detroit: Become Human' y 'Beyond: Two Souls', ambos del estudio Quantic Dream podremos analizar la evolución de los valores que desarrolla el usuario según sus comportamientos y las situaciones que se vayan presentando en el juego.
Videogames industry is one of the largest in the world in terms of entertainment and communication. Within it, depending on the type of game, it is possible to modify the way of communicating, as there is an option in which users can be personally involved in the story. In this manner the receiver becomes a sender at the same time. Therefore, it is important to identify and analyse which values are shown and how to carry out this gaming experience and communication at the same time. For this purpose, two videogames which use user's immersion as the first person have been chosen. The first one is Detroit: Become Human and the second is Beyond: Two Souls. They both are from the Quantic Dream studio. With these two games we will be able to analyse the evolution of developed values by users according to their behaviour and situations that arise in game.
Citation
ABITBOL, Pablo y BOTERO, Felipe. (2005) "TEORÍA DE ELECCIÓN RACIONAL: estructura conceptual y evolución reciente", en Colombia Internacional, nº62: 132-145. ALTOZANO DAVO, José. (2017). El videojuego a través de David Cage. 3ª ed. Sevilla: Héroes de Papel. BRENTANO, Franz. (2002). El origen del conocimiento moral. 2ª ed. Madrid: Tecnos. CAGE, David. (2018). "Cómo los videojuegos convierten a los jugadores en narradores". en Ted.com: en https://www.ted.com/talks/david_cage_how_video_games_turn_players_into_storytellers?language CARRERAS, Llorenç. (1995). Cómo educar en valores. 3rd ed. Madrid: Narcea Ediciones. CIAURRIZ VELASCO, Fermín. (2009). "Persuasive games. The expressive power of videogames." en Revista Internacional de Comunicación Audiovisual, Publicidad y Literatura, 293-297. CUADRADO, Alfonso. (2013). "Acciones y emoción: un estudio de la jugabilidad en Heavy Rain." En: Scolari, C. ed., Homo Videoludens 2.0. De Pacman a la gamification.. Barcelona: Laboratori de Mitjans Interactius. Universitat de Barcelona. DÍEZ SOMAVILLA, Rebeca. (2016). Los valores educativos y las competencias en los videojuegos de la TDT infantil española. Doctorado. Universidad Politécnica de Valencia. ETXEBERRIA-BALERDI, Félix. (2016) "Videojuegos y educación". en Education in the Knowledge Society (EKS). en http://revistas.usal.es/index.php/eks/article/view/14154 LATORRE, José Ignacio. (2019). Ética para máquinas. 1ª ed. Barcelona: Ariel. PARKIN, Simon. (2016). Muerte por videojuego. 1ª ed. Madrid: Turner. NEWMAN, James. (2004). Videogames. London: Routledge. ORTEGA Y GASSET, José. (2004). Introducción a una estimativa. ¿Qué son los valores?. Madrid: Ediciones Encuentro. PICÓ, Josep, y SANCHIS, Enric. (2014). Sociología y sociedad. 3ª ed. Madrid: Tecnos. PLANELLS, Antonio J. (2015). Videojuegos y mundos de ficción. 2ª ed. Madrid: Ediciones Cátedra. RODRÍGUEZ PRIETO, Rafael. (2016). Videojuegos. La explosión digital que está cambiando el mundo. 1ª ed. Sevilla: Héroes de Papel. SANDEL, Michael J. (2011). Justicia. ¿Hacemos lo que debemos?. Barcelona: Penguin Random House Grupo Editorial. Debolsillo. SANTIAGO GUERVÓS, Javier de. (2005). Principios de comunicación persuasiva. 2ª ed. Madrid: Arco Libros. SAVATER, Fernando. (1999). Las preguntas de la vida. 6ª ed. Barcelona: Ariel. SAVATER, Fernando. (2007). Diccionario del ciudadano sin miedo a saber. 2ª ed. Barcelona: Ariel. SCHOPENHAUER, Arthur. (2002). Aforismos sobre el arte de saber vivir, La moral , El arte de tener siempre la razón. 1ª ed. México: Alamah. SCOLARI, Carlos A. (2013). Homo Videoludens 2.0. De Pacman a la gamication. Collecció Transmedia XXI. Laboratori de Mitjans Interactius. Universitat de Barcelona. Barcelona. STEVENSON, Leslie. y HABERMAN, David L. (2010). Diez teorías de la naturaleza humana. Madrid: Cátedra. TOST, Gina y BOIRA, Oriol. (2015). Vida extra. Los videojuegos como nunca los has visto. 1ª ed. Barcelona: Grijalbo. WITTGENSTEIN, Ludwig. (2013). Aforismos cultura y valor. 3ª ed. España: Austral. YEPES STORK, Ricardo. (2001). Entender el mundo de hoy. 4ª ed. Madrid: Rialp.