Publication:
Los manuales escolares de literatura latina del 27:enseñar bajo una dictadura (García de Diego, Yela Utrilla, Galindo Romeo y Echauri)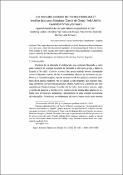 Authors
Advisors (or tutors)
Editors
Abstract
Se analizan en este trabajo los cuatro manuales de literatura latina publicados entre 1927 y 1928 bajo la férrea legislación educativa de la dictadura de Primo de Rivera (Plan Callejo, de 1926). Bajo su aparente tono neutro, los manuales revelan aspectos políticos afines al régimen y otros que apuntan a la ideología fascista.
This paper discusses the four handbooks on Latin literature published between 1927 and 1928, under the educational legislation of the dictatorship of Primo de Rivera (Plan Callejo, in 1926). Despite their neutral appearance, these handbooks reveal political aspects related to the dictatorship and fascist ideology.
Description
Trabajo realizado dentro del Grupo UCM de investigación "Historiografía de la literatura grecolatina en España"
Collections