Publication:
El plan republicano en la Facultad de Derecho de Madrid (1931-1934)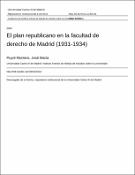 Advisors (or tutors)
Editors
Publisher
Universidad Carlos III de Madrid. Instituto Antonio de Nebrija de estudios sobre la universidad ; y Dykinson
Abstract
El autor estudia las vicisitudes del plan republicano de 1931 en la Facultad de Derecho de Madrid. Hace hincapié en algunos aspectos novedosos de aquel plan: la promoción de las enseñanzas prácticas, la división en dos de la cátedra de Derecho internacional, el interés por los estudios de Economía y los estudios especiales de Administración. Se basa en el libro de actas de la Junta de Facultad de esta Universidad.
The author addresses the vicissitudes of the 1931 republican plan of adopted by the Law School of Madrid, providing novel insights into some of its aspects, like practice courses and its teaching, the split of the chair in intemational law, the rising interest in economic studies and in special administration studies. The author bases his research on a document titled "Libro de actas de la Junta de Facultad", which covers the period between 1931 and 1934.
Collections